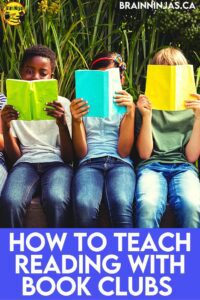 Our students love to have some choice over what they read as part of our Language Arts program. Book Clubs are one way to encourage reading and discussions just like adults do. Students read for enjoyment and then talk about what they have read and recommend books to others. Setting up book clubs can be a little confusing, especially if it's your first time. Don't worry! We're here to help you out.
You're going to love book clubs!
What is a Book Club?
Generally, a book club is a group of people reading the same book. They read a certain amount and then discuss it together. The fun of reading a book together can help inspire a life-long love of reading. In many cases, the group members read the latest and greatest book, but in all book clubs, the readers get a say in which book is read.
This is why students love book clubs. They get some choice.
What are the Benefits of Hosting Book Clubs in Your Classroom?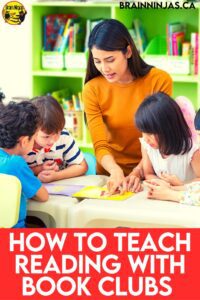 Students Love Them
Disclaimer-not every student loves it every time. If you make the book reading the focus, they will likely enjoy the book club. If you make the book club read and then do a whole bunch of assignments that require more than the book inspires, then you'll love some of the students.
Once They are Set Up, They are LESS Work
As teachers, we often think we need to assess everything, but we rarely assess the work done in book clubs in a traditional way. While students are working in book clubs, we are still explicitly teaching reading to another small group. We keep track of which students have worked with us and we assess their reading, but we do not assign a lot of written assignments to do for each chapter of a book.
They Are Relaxing
When you give students plenty of time to do their reading, the class starts to gain calmness. It is a great way to slow down the day and enjoy a book.
They Are Authentic
Adults join book clubs because they are fun. They talk about books they read because they enjoy talking about something everyone in the group has in common. Why not use this same type of thinking for our students?
How Do You Set Up Book Clubs?
Arrange Your Materials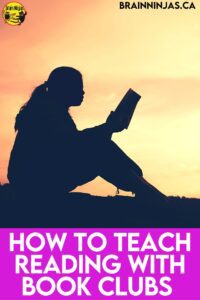 You will need several copies of several novels. You will want these arranged by reading level. We usually try to have 3-4 novels per group (which is arranged by reading level). If you aren't sure of a reading level for a book try Scholastic's Book Wizard. It doesn't have every book, but it has quite a few.
Think About Possible Student Groups
While you want your students arranged in similar reading levels, they do not need to be exact. Novels are not necessarily stuck in one reading level so as long as a student will be able to read the book, it doesn't matter if all the students in the group are at the exact same level.
Plan Out How Long Students Will Work in Their Club
We recommend you add a week or two to your plan. Things come up that will disrupt your plan, so if you already have a built-in cushion, your clubs will run smoothly. Our clubs typically run from three to four weeks.
Understand Your Students' Reading Levels
This way you only present the books that your students will be successful reading. Remember, the reading levels of the books and your students are just to help guide you (the teacher). Students do not need to know or use the reading levels. They should choose books based on their interests, within reason.
If you are trying to figure out if a book is too difficult for a student, try using our Quick Comprehension Check. You can find it in our Resource Library or we can send it directly to your inbox when you join our email list.
How to Get Started on Book Clubs
Introduce the Books
Give a quick book talk on each of the books and tell students why they are great. Don't give away the whole story (of course) but based on what you know about your students, try to get them interested in the books.
Have Students Make Some Choices
Ask students to pick their first, second and third choices of books. We ask students to write these on an index card. When students feel like they have a say in the book choice, they'll be more engaged than if it is just assigned to them.
Set Up the Groups
Put students in groups based on the book they've chosen, the number of copies you have available to use, the personalities of the students in the group (they need to be able to get through a discussion) and the reading level of the novel compared to the reading level of the students.
Share the Groups With Students
Put the students in groups with their books.
Sign the Contracts
Have your students create a contract about how much they will read each week. All the students in the group get a clear understanding of how much work will be required each week. The contract is then given to the teacher. You can get a copy of this contract in our Resource Library. Members of our email list have unlimited access to the Resource Library along with lots of other goodies.
How To Run the Book Clubs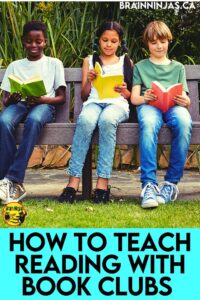 We use a two-week cycle to set up our book clubs. During the very first week, it takes students a bit of work to get into the routine of getting their work all done. Below is a general schedule of how we run the groups. It is a combination of meeting with the teachers to practice reading, discuss the book and keep students accountable. It's best to meet with everyone at least once a week before there are issues with missed work or before students get behind.
Keep in mind you can have your students working on anything you want (including other subject areas) while you're meeting with students. When the group is meeting with the teacher, we are doing some explicit reading instruction or word work. Each session runs about 20-30 minutes and while we try to run all the sessions back to back, sometimes we break up the sessions over two days or during different parts of the day.
Generally, we teach Language Arts for 45-75 minutes a day.
At the beginning of the year, we often choose the book for each club. We try to make the book match their independent reading level so the books can be read comfortably by all members of the group. Later in the year, we often let groups pick their book from a small selection of books.
As your students get better at using book clubs, they will be able to get more and more independence.
How Do You Teach Students to Have a Good Discussion About a Book?
The purpose of the club is to read, discuss, share and then read some more. When students are first learning to be in Book Club, they will need some guidance about how much of the book they will need to read by each discussion point. Depending on the book, this could be a chapter or two between each discussion.
Students need to understand that not having their books read makes the discussions far less interesting and meaningful.
How to Specifically Teach Discussion Skills
Teaching students to ask and answer open-ended questions can be a challenge, so when we are first learning this skill, we often host a goldfish bowl activity.
A goldfish bowl activity is a whole class lesson where we all read a poem or short article together aloud and then practice asking and answering questions in small groups. As students are practicing in small groups around the room, we circulate and eavesdrop.
We are looking for a few students who are doing an exceptional job of asking, answering, listening and demonstrating good discussion skills. We pause the discussion through the room and bring these students to the centre of the room.
Set up this small group of students in the middle of a class circle. The rest of the class stops their discussions during this observation. The small group will continue the discussion about the poem or story while the rest of the class observes what they are doing that makes for a good discussion. Students who are observing are asked to collect ideas. Here are some of the suggestions from our classroom:
How Do You Modify Things for Students?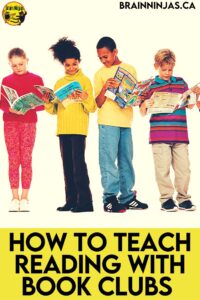 Some groups do better if there is a leader or moderator. This can be someone who can just help make sure everyone gets a turn or keeps track of the amount of time needed during discussions. The moderator can also make sure everyone in the group has had a chance to contribute to the discussion.
Groups can also inform the teacher where they are in the novel so the teacher can intervene for pacing if needed. Most of our book clubs take place over the course of a month. This allows for time to read, discuss and share in class during our Language Arts time. It's best to help students catch up before they are far behind.
Some students need a little extra time for reading, so we recommend having a simple sign-out list so students can take the books home when needed.
And don't forget about using other versions of books to mix things up. Audiobooks and ebooks offer a unique experience for students to try. Some students find the pressure of reading a whole novel a little daunting, but it might be possible to listen to the odd chapter to help students keep on track. Learning to listen to audiobooks is a unique skill in itself, so having students listen to a book is a great way to check for comprehension when fluency is slowing them down.
If you are looking for a writing activity to accompany your book clubs, you should check out our Twisted Literature Circles. We've even written a post about it: Give Your Reading Instruction an Easy Twist.
Use Technology in Your Book Clubs
Looking for another way to run a Book Club? We've experimented with our class and Google Meet to have discussions using this platform. Our students had a great time trying it out. Check out our post on Using Google Meet to Run Book Clubs.
If your students aren't quite ready to read novels all on their own, try doing a book club as a read-aloud. You read the novel to the students, but they have the discussions in small groups.
---
Book clubs take practice, but they can be very rewarding for students who just want to read. Save the guided instruction for the small group instruction while the book clubs manage themselves.
Honestly, book clubs are our favourite time of the school year. The pressure is off planning daily and we just get to teach reading in an authentic way.
Are you looking for other Language Arts ideas?
Have you run book clubs? What worked for you? What were the challenges? Let us know in the comments below!