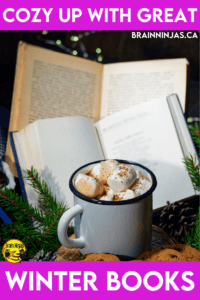 When it's cold outside, a good winter book is a great way to cozy up and spend the cold months. We love to read picture books to our students in Grade Four and Five. Older students love picture books and they love to be read to just as much as younger students.
Picture books are a great way to teach specific comprehension skills, show examples of different types of writing, teach poetic devices and show how grammar is used in real-world situations.
Having a great book is just part of the equation. Next, we'll talk about some of the ways we get kids to read.
Set Up Opportunities for Students to Read Winter Books
Flashlight Reading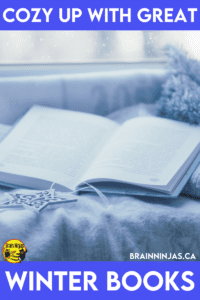 Invite your students to bring a small flashlight from home. We always keep a few extras around in case someone forgets to bring one. You can usually pick up a few keychain-sized ones at the dollar store for the students who don't have a flashlight of their own.
Let your students choose a spot to sit with a book. They use their flashlight to illuminate their pages as they read and you turn down the lights. Next, make it even cozier by using your projection board with a fireplace. We've even put on a beach and listened to the soothing sound of the waves.
Flashlight reading is a great way to bring down the energy in the classroom when it is getting a little chaotic.
Read and Feed
Have your students bring a "clean snack" to enjoy as they read. A clean snack is something that isn't going to get the pages of the book messy (every librarian's worst nightmare).
Basically, you just read a book and eat some food. It's a great way to enjoy a book. Can you think of anything that kids would love more?
Sometimes we bring a healthier treat for students to enjoy so there isn't so much pressure to have a snack.
Use Winter Books for Read for Needs
We've hosted a larger read-in activity where students brought donations for a local shelter that helps people affected by homelessness. Each item "bought" the student a certain amount of time to read. We used our gymnasium and brought in inflatables (a parent in our community works for an inflatable rental company). Students got to cozy up with a book and sit on these crazy inflatable shapes.
As a bonus, members of our community affected by homelessness received items they needed to make life a little easier.
Our Winter Books List
These are the winter books we love and most of them are picture books.
We are often asked why we don't include links to books in our posts. Many bloggers are affiliates of companies, we are not. Brain Ninjas is a small business. We firmly believe in supporting other small businesses like local bookstores. Instead of ordering books from an online retailer, consider working with your local bookstore. They will likely put together a book order for you, for instance.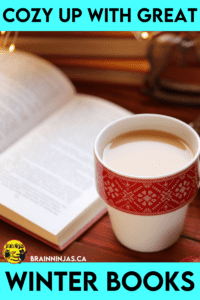 The Snowy Day by Ezra Jack Keats
A boy wanders through his neighbourhood after a snowfall.
The Mitten by Jan Brett
This is the story of several animals who crawl into a found mitten to stay warm. This is a great book for teaching sequencing. The illustrations are amazing and make for a great art project for upper elementary students.
Over and Under the Snow by Christopher Silas Neal
As a girl and her father wander through a forest, they discover all the ways animals live during the winter. It's a great book to talk about hibernation or animal adaptations.
Snowmen at Night by Caralyn Buehner
This is a very popular one, but it's a favourite. What do snowmen do at night? This is one of a whole bunch of snowmen-themed books for different holidays.
If you're looking for a quick and easy art project to go with this book, check out the Snowmen Heads art lesson in our Resource Library. However, we can send you a copy of the lesson directly when you sign up for our ninja email list.
Here Comes Jack Frost by Sharon Peters
This one is a great story about a boy who doesn't really have anything to do because everyone is hibernating. This book has amazing illustrations which can be used for projects. For example, our students recreated pages from this book in art class.
Winter is Here by Kevin Henkes
This one looks at all the ways to describe winter. We used it to talk about how authors describe things using the senses. Quite often we teachers say "show, don't tell," but we don't really explain what that means. For example, show examples by using the different senses to describe winter. You might be able to find a video of Kevin Henkes reading this one aloud.
The Biggest, Best Snowman by Margery Cuyler
This is a great book to talk about point of view. Nell is the little sister and just wants to do the same things as her older siblings.
The Shortest Day: Celebrating the Winter Solstice by Wendy Pfeffer
Up here in Canada, we're used to the days getting shorter and shorter, but this book does a great job of explaining why that happens. Tie this one into a weather or seasons unit.
The Five Dog Night by Eileen Christelow
This is a great story for teaching empathy. We review character traits and kindness and talk about what it means to be a good neighbour (or citizen).
Sneezy the Snowman by Maureen Wright
Sneezy doesn't feel well, but these kids do everything they can to make him feel alright again. This is one is just plain fun and it has great illustrations. It is perfect for an end of the day read.
Snow Party by Harriet Ziefert
This book is all about the party. The illustrations are lots of fun because there are many items made out of snow or ice (like all the food). Read this one under a document camera to allow students to see all the pictures. Look for the fun and creative ways the illustrator has brought everything to life.
The Story of Snow: The Science of Winter's Wonder by Jon Nelson and Mark Cassino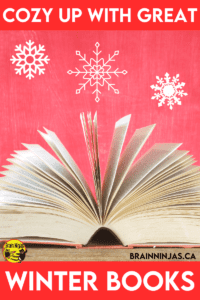 We love this book because it ties in so nicely to our weather AND chemistry science units. It talks about and shows snowflake crystals, and how they form, and it is filled with photographs. This also pairs nicely with the next book in our list, for example.
Snowflake Bentley by Jacqueline Briggs Martin
This book is about American meteorologist, Wilson Bentley, who is the first person believed to photograph snowflakes. If you're doing any kind of snowflake artwork, this is a great book to look at as it has many inspiring examples.
Owl Moon by Jane Yolen
This picture book about a daughter and father out scouting for owls is full of poetic devices like similes, metaphors, onomatopoeia, and personification. It's perfect for introducing figurative language.
Bunny Slopes by Claudia Rueda
This book is just cute, but it also has a purpose. I pull this one out when we go skiing on a school-wide field trip each year. I use it for all the students that have never been skiing or have anxiety about trying something new. Plus-it's just adorable.
No Two Snowflakes by Sheree Fitch
This book by Canadian Author Sheree Fitch has one child explaining snowflakes to another child who has never seen snow. We use this book because it is a good example of poetry.
The Biggest Snowman Ever by Steven Kroll
Two mice compete to make the biggest snowman ever. We read this one because it makes a great lesson. There are so many snowmen books that it makes for a very easy way to have students practice compare and contrast. However, since this book is part of a series of books, students can compare the other books in the series or just other random books about snowmen.
Brave Irene by William Steig
Irene braves a blizzard to make a delivery for her mother. This is a great book for examining character traits. Students can make a list of traits and then compare them to other characters or their own personalities. We use this one to start listing character traits so we can use them in our own writing.
The Snowman by Raymond Briggs
This is a wordless picture book. We look at the pictures as a class. Next, students write the words for each page. Sometimes we print the pictures from the book and then students can add their words directly to the page.
Other Winter Activities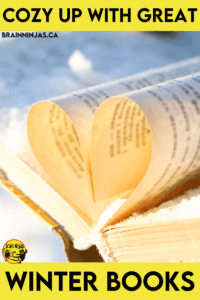 If you're looking for other activities to do with your students, you should read our post called You'll Love These Exciting Winter Classroom Activities. It's filled with activities with a winter theme that you can use to connect to the winter books you've read.
We love to combine winter books with winter art. One of the easiest lessons to do is to try to imitate the illustrations of books. Sometimes we combine the retelling of books with specific illustrations that we've recreated in art class. Find the lessons in our TpT Store or BN Shop.
Other Seasonal and Holiday Books
We love to collect books for different occasions and we've slowly been sorting them into holidays, events, observances, and themes. If you're looking for another list of books, check out some of these.
Black History Month These books feature Black history and Black authors and should be used all year round.
Orange Shirt Day: These books about Residential Schools are a must-have for your school collection.
Books for Holi Festival of Colours
The Secrets to Teaching Social Emotional Learning That Will Work for Kids This post includes books for social emotional learning in addition to activities you can do to help teach your students to manage their emotions.
Books with LGTBQ+ Characters You'll Love All students need to feel represented. Make sure you have books in your classroom to make all your students feel included.
Poetry Books These are perfect for National Poetry Month or Poem in Your Pocket Day.
Books for Lunar New Year These books talk and teach Chines New Year, Vietnamese New Year, and Korean New Year.
Take a Peek into Asian Heritage Month in Canada This post is all about the history of Asian Heritage Month in Canada, but it has lots of stories about Asian cultures and by Asian authors. There are picture books, novels, and non-fiction books included in the post.
Books for and About Powerful Women This post is all about wonderful women from a Canadian perspective.
---
What other winter books do you love? Please share the title with us in the comments below. We can check it out and add it to our collection.
Are you looking for more winter activities? Then you'll love these Exciting Winter Classroom Activities. And if you're on a budget, you'll want to read Free Winter Activities Worth Scooping Up.
If you want to get your students to recommend books, we think you should grab our Book Recommendation slips from our Resource Library. If you're not a ninja yet, just sign up and we'll send you the Book Recommendation slips directly to your inbox.
Tell us about some of your favourite winter books.