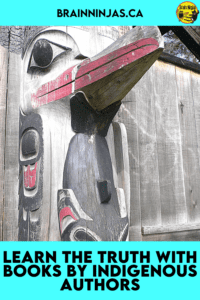 We have collected some of our favourite books written by Indigenous authors. It's part of our commitment to raising the voices of Indigenous People across Canada. Canada is filled with so many wonderful creators that it only seemed fitting to highlight some of the best.
You will notice there are no affiliate links in this post. We ask that you support local businesses and authors by shopping at your local book stores. Teachers in our school purchased most of these books so we could have them in our school library and classrooms. Please be sure to comment below if you know of more books we should add.
The books in this post cover a variety of topics. If you are looking for books specifically about Residential Schools and stories of survivors, you might prefer the post Activities for Orange Shirt Day: Every Child Matters.
Why Books by Indigenous Authors?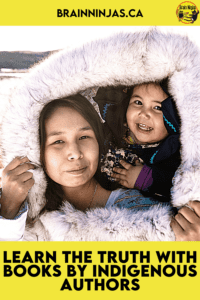 Why do we include books by Indigenous authors in our classroom? There are many reasons. First, we want students who identify as Indigenous to see their own culture reflected in the books on our shelves. We want them to feel welcomed and included. Most importantly, we want them to feel proud of their culture.
Second, while teaching about Residential Schools is important, we don't want the only learning to happen around Orange Shirt Day or around the trauma Residential Schools caused. All students need to learn about the teachings of Indigenous culture. They need to learn to respect each other and all their traditions. Including books by Indigenous authors teaches all students perspectives of different people in Canada. They need to see the beautiful parts of these cultures.
Third, Indigenous history is Canadian history and it is important that all Canadians learn the truth. Including stories told from Indigenous perspectives prevents tokenizing Indigenous culture. Learning about the history of Indigenous People in Canada goes beyond beads and bannock. It goes beyond mentioning Residential Schools once a year.
We ask our students to recommend books to us. We can send you a copy of these Book Recommendation Notes or you can find them in our Resource Library.
These are just some of the books we've found so far.
Books for Younger Readers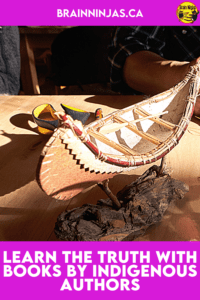 Don't exclude books for younger readers in your classroom. They provide excellent bits of bite-sized information.
Life Cycles of Caribou by Monica Ittusardjuat Even though this is for young children, giving students the chance to see and hear the Inuktitut syllabics is worthwhile. This is a bilingual Inuktitut and English book.
Nibi is Water by Joanne Robertson This book talks about the importance of protecting our water. This book is written in both English and Ojibwe.
In My Anaana's Amautik by Nadia Sammurtok This story is told from the perspective of Inuk baby safely carried in their mother's amautik. An amautik is a special parka with a pouch to carry a baby against the mother's back.
The Caterpillar Woman by Nadia Sammurtok This is the Inuit version of "the princess and the frog."
The Owl and the Two Rabbits by Nadia Sammurtok Two rabbits ignore their parents' warning and get chased by a hungry owl.
The Girl and the Wolf by Katherena Vermette and Julie Flett A little girl gets lost in the woods while picking berries. Then a large grey wolf uses her scent to help her get home. She realizes she had the skills to find her way back on her own.
ᓇᑦᑎᖅ Nattiq And The Land Of Statues by Barbara Landry A seal returns to the Arctic with tales of all the creatures he's met. This book includes a glossary filled with Inuktitut words.
Books for Elementary Grades
47,000 Beads by Koja and Angel Adeyoha Peyton used to dance at powwows, but recently she's dancing less. When her aunt discovers the reason, she works to get Peyton what she needs.
Spirits of the Northern Lights by Skye Durocher A young girl named Cora learns from her grandparents while she spends the summer with them.
Una Huna? What is This? by Susan Aglukark Ukpik loves living in a camp in the North with her family. Her father trades with a captain. She learns to use the knives, forks, and spoons.
Birdsong by Julie Flett When a young girl becomes friends with her elderly neighbour, she learns her friend is not well. They watch the seasons change as they keep each other company.
Surviving the City by Tasha Spillett This graphic novel is illustrated by Natasha Donovan. Two high school students, Miikwan, who is of Anishinaabe descent, and Dez, who is of Inninew descent, are best friends. They strive to change the horrific trend of missing and murdered Indigenous women.
More Books for Elementary Grades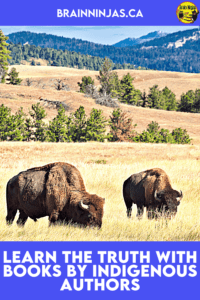 I'm Finding My Talk by Rebecca Thomas This is the companion book to I Lost My Talk and is illustrated by Pauline Young. It is poetry and talks about the experience surviving the Residential School system. It explains how she is reconnecting with her culture and heritage.
Meet Your Family / Gikenim Giniigi'igoog by David Bouchard This is a rhythmic poem that talks about how we all come from Mother Earth.
This Is What I've Been Told by Juliana Armstrong In this book, readers learn about how teachings are passed down through the generations.
Medicine Wheel: Stories of a Hoop Dancer by Teddy Anderson (Adopted Tlingit, Persian, English, Scottish and Norwegian) Teddy shares stories of learning to become a professional hoop dancer. This story explains inclusion through the use of the Medicine Wheel.
Dawn Flight: A Lakota Story by Kevin Locke This is the story of how when the great flood cleansed the Earth, an eagle was sent to save one good human. The symbolism of the eagle is used throughout the story. It shows children how they can use darkness to soar above to light.
Trudy's Rock Story by Trudy Spiller This is a great story for helping students learn about emotions and how to express them. After an argument, Trudy remembers what her grandmother taught her. She searches for a stone to share her feelings with.
Even More Books for Elementary Grades
Gifts from Raven by Kung Jaadee Based on Haida teachings, the raven gives each person a special gift to share with the world.
Michael Hutchinson is a member of the Misipawistik Cree Nation, north of Winnipeg. He wrote the Mighty Muskrats Mystery series for young readers. Most of his career has been spent telling the stories of Indigenous peoples. He advocates for First Nation families and communities across Canada. Look for his books The Case of Windy Lake, The Case of the Missing Auntie, and The Case of the Burgled Bundle.
Raven's Feast by Kung Jaadee After Raven finished creating the world, he held a big feast because he was lonely. At the end of the feast, he gifted people with special gifts.
The Sharing Circle by Theresa "Corky" Larsen-Jonasson When two animals have a fight, the buffalo takes a gift of braided sweetgrass to an Elder to help teach them how to hold a sharing circle.
Books for Older Students
I Will See You Again by Lisa Boivin This is the story of Lisa's journey to bring home her brother after he passes away. This book includes Dene traditions and messages of love and hope.
The Ghost Collector by Allison Mills Shelly helps ghosts move to the afterlife. When she loses someone close to her, she starts preventing the ghosts from passing on while she waits for the ghost of her loved one.
Fire Song by Adam Garnet Jones This book is about suicide. It should be reserved for older readers. Shane is a gay, Indigenous teenager who is trying to take care of his family after his sister commits suicide.
Those Who Dwell Below by Aviaq Johnston This is a great fantasy novel. A young shaman named Pitu escapes a spirit world to resume his life in the Arctic.
What the Eagle Sees by Eldon Yellowhorn and Kathy Lowinger The eagle flies over everything and sees all. This book shares the overlooked and underrepresented stories of Indigenous people.
More Books for Older Students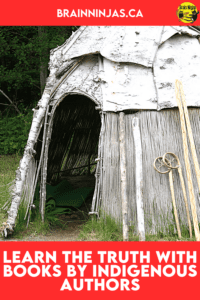 David A. Robertson's Reckoner series follows an Indigenous teen named Cole Harper. There are three books in the series: Strangers, Monsters, and Ghosts. The series is full of mysteries around the Wounded Sky First Nation. In the most recent book, Ghosts, Mihko Laboratories, which created an illness that once affected Cole's community, has reopened its research facilities.
Northwest Resistance by Katherena Vermette This graphic novel series features Echo Desjardins, a time-travelling teenage. The A Girl Called Echo series features the books Pemmican Wars, Red River Resistance and Northwest Resistance.
Books with Indigenous Illustrators
Bear for Breakfast by Robert Munsch, illustrated by Jay Odjick This book is available in English, French and Algonquin. When Donovan decides he wants bear for breakfast, it seems like the bear isn't into the plan.
Blackflies by Robert Munsch, illustrated by Jay Odjick Helen loves the spring. Well, except for the blackflies and mosquitoes which ruin everything. When she sends her little sister outside to check on the blackfly situation, disaster strikes.
Where to Find Books by Indigenous Authors
Quite often we are able to order these books through small booksellers. There are some online retailers that also sell books by Indigenous authors. Some publishers only work with Indigenous authors while others have banners within publishing houses.
Medicine Wheel Education strives to publish culturally authentic books by Indigenous authors across Canada. Their books are distributed throughout publishers and commercial retailers across Canada.
Raven Reads is a book subscription service. Women of Indigenous descent or with Indigenous connections through family own and operate it. They provide book subscription boxes for kids and adults full of stories, art and learning of the different Frist Nations, Métis, and Inuit people that live across Canada.
Chapter's Indigo has been curating a collection of books by Indigenous authors for kids and adults.
Looking to learn more?
We learned to play this Bone Game. It's a number game that helped young children learn to count in their native language. We've used it in English and French. You can find the instructions in our Resource Library or we can send a copy directly to your inbox when you join our email list.
Love reading?
We have several other booklists for a variety of topics.
Seasonal Books Lists
Book Themes
Holidays and Event Booklists
Do you love other books written by Indigenous authors? Please share them with us in the comments below so we can add them to the list.