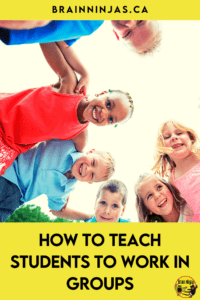 Some students love working in groups, while others prefer to work independently. There are many reasons students should learn to work in groups, but often we find teachers forget to teach the students what that looks like. Students need explicit teaching to understand the different group roles and processes. Here are some activities you can try to help your students get the most out of their group work.
Explain the Different Group Roles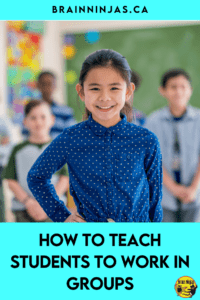 One of the biggest problems with group work is uneven work distribution. Some students take on the role of a leader naturally, but not all students are willing to follow the lead. Some students are more comfortable sitting back to let others do the work. Others are more introverted than their peers and struggle to speak up in groups.
When planning group work, think about the different roles that can be done in the group. By evenly dividing the roles, each student has a specific job, and no one is left to do anything alone. We have a variety of roles we regularly use, but sometimes we only need a few for the task. Sometimes group members take on more than one role.
Some of our most common roles have specific tasks:
leader: responsible for making sure everyone in the group has a role
materials manager: responsible for collecting and returning any supplies needed for the task
time manager: makes sure the group stays on task and gets it done in the allotted amount of time
recorder: responsible for recording the answers of the group (They just write them down. They do not have to give all the answers.)
reporter/presenter: responsible for sharing the information from the group to the whole class
artist: responsible for drawing or decorating items
technology: responsible for getting any technology organized (opening the file, sending in the file)
Even though we use different roles, all the group members are responsible for doing the task. That means we can ask any group member a question about the activity and any group member should be able to answer.
We have an entire activity to help learn about the group roles in our Group Roles and Process Unit. You can find the Group Roles and Process Unit in our TPT Store and BN Shop.
This activity is also available in our Full Year Health Bundle for Grades 4 through 6, which you can find in our TPT Store and BN Shop.
Teach Students How to Communicate When They Work in Groups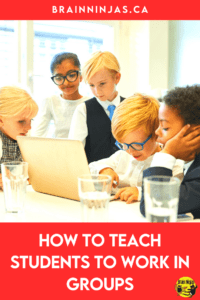 When we put students in groups, a lot of assumptions are made. Students need to be taught how to agree and disagree with each other. They need to know how to give each feedback on their ideas and how to compromise. Each of these is a skill, and it's important to teach each one as a skill. We do a few different activities to teach the skills while students work in groups.
Multiple Perspectives
We use the Pipeline Perspective to look at how to make decisions when there are lots of varying points of view. This activity teaches students how to look at information, identify facts or opinions, and then use that information to make a decision. Find The Pipeline Perspective: Multiple Perspectives Activity in our TpT Store and BN Shop.
Feedback
Students learn to give each other feedback. This type of feedback is more than just being good or bad. It teaches students to ask each other questions to flush out ideas. You can grab a set of the Feedback Posters in our Resource Library, or we can send them to you directly when you join our email list. To read more about how we teach students to give each other feedback, read our post How to Give Amazing Student Feedback.
Taking Turns
If you have a group of students who are particularly extroverted, try this activity to give everyone in each group a turn to speak. It doesn't matter what the group is actually doing, but each student in the group gets five tokens. We use cheap plastic poker chips from the dollar store. When a student talks, they play a token. The goal for the group is to play all their tokens before the time is up.
This makes it so that the talkers have to be more careful about how much they talk because they run out. It encourages the shy students to speak up because they have to use up their tokens.
There are several activities that you can try in our Communication, Teamwork and Community Unit, which you can find in our TPT Store and BN Shop.
It's included in our Full Year Health Bundle for Grades 4 through 6. Our class's favourite activity is called Survival Island. It's definitely worth a try. You can find the Full Year Health Bundle for Grades 4 through 6 in our TPT Store and BN Shop.
Fishbowl Activity
When you observe students who are working well in a group, use them as an example for the rest of the class. Arrange your class so that the group sits in the middle of the room while the rest of the class sits around the group. The group in the middle of the room will continue to work on the task. They are the fish in the fishbowl. The rest of the class are observers. Their job is to watch the group and look for specific behaviours. Ask the observers to look for behaviours that are helpful when working in a group.
A really easy task is to print out any poem and have each group read it and decide what the poem is about. We have several poems included in our Poem in Your Pocket set, but there are lots of poems to choose from online or in your school library. Ask students to read the poem together. They will need to decide how they are going to read it. One student might read it, or they could read it as a group. When they discuss the poem, are they listening to each other?
When we do this activity, we ask our students to look at how the group handles specific problems. This will depend on the task, but we ask students to watch for how they give each other feedback, how they agree or disagree, how they take turns, how they stay on task, or how they show respect for each others' thoughts and opinions.
Once the observation is done, the observers point out what they saw. Make a list on a piece of chart paper so students will be able to refer to it.
Teach students specific sentence stems like:
I like your idea and agree because…
I disagree because…
To add to your idea, I would say…
In addition to ______'s idea, I think…
Another way to look at it is…
Find the Poem In Your Pocket activities in our TpT Store and BN Shop.
Teach Students How to Resolve Conflicts When Working in Groups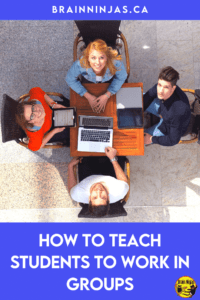 There will be times when students disagree on how to proceed with a task. We try to teach our students ways to resolve these problems proactively by giving students options on how to disagree and how to get to a consensus. Adults have difficulty with these skills, so it's only inevitable that students will have trouble, too. We try to teach this as getting to a point where you can either agree or agree to disagree but continue the activity.
We teach conflict resolution as part of our Building Positive Relationships Unit, which you can find in our TPT Store and BN Shop.
The unit is part of our Full Year Health Bundle for Grades 4 through 6, which you can find in our TPT Store and BN Shop.
When it's a quick activity, and we need a quick decision to resolve a conflict, we teach students to play Rock, Paper, Scissors, and the winner makes the call. Everyone just moves on from there and we don't hold grudges.
Teach Students to Get to Know Each Other
Students that know each other are more likely to work well together in groups. We have several games and activities in our Communication, Teamwork and Community Unit — you can find this unit in our TpT Store and BN Shop.
We have a simple Would You Rather? Game. It's available in our Resource Library, or we can send you a copy directly to your inbox when you join our email list. Students can ask each other questions and take turns while practicing working in a small group.
Remind students to be kind to each other because you will be working together all year and probably in future school years. We can accomplish great things when we work together.
Should You Make Students Work in Groups?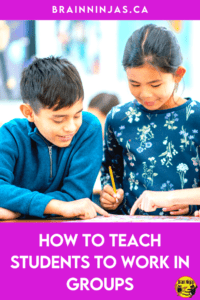 The short answer is no.
Is it important to learn to work in groups? Yes.
Some students have so many ideas that they just want to get to work and don't want the hassle of navigating through compromises. We will insist that for some activities, particularly the ones where we're learning to work in groups, they must work in the group. For other activities, we let them choose or allow them to work independently.
Some students are shy and group work causes anxiety. This anxiety can stem from many different reasons. As a child, I suffered from hearing loss. Group work was a challenge because being huddled in a group whispering meant I didn't get to hear anything that was happening. I often felt left out. That wasn't because anyone intentionally left me out. I was painfully shy because I couldn't hear and didn't want to look stupid by answering incorrectly. Once my hearing loss was diagnosed and supports were put in place, I enjoyed group work more often.
Some students have personalities that conflict and putting them together in a group is probably not going to result in anything good. Directly teaching skills to cope in group work situations will help these students as they move forward in life.
Some students like to work in groups, but they are not good at actually working. It becomes more of a social event. That's another reason group roles are important. It creates accountability for students to get their job done.
If you have enough materials to let students choose to work in groups or alone, let your students decide. Keep track of how students work together to help create groups for future projects.
What Do You Do to Help Your Students Work in Groups?
We'd love to hear what you do to help your students work in groups. Leave us a comment below.
Are you looking for more back to school posts?