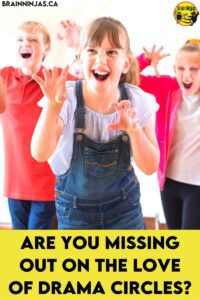 Before learning about drama circles, we weren't sure how we could incorporate drama into our classroom in a meaningful way that didn't take away from all the work we needed to do. Putting on a play just didn't seem like a good use of our learning time, but we knew our students enjoyed acting. That is when we considered some of the benefits of drama circles in our upper elementary classroom.
What are the Benefits of Using Drama Circles in the Classroom?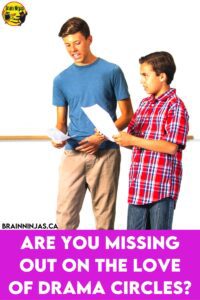 First, what is a drama circle? It is a series of small parts that students complete while standing in a circle. Each part has an action or phrase that triggers the next card. Cards will have different amounts of text or will have different actions for students to complete. When all the cards are read in order, they will tell a story or explain something. Some circles are designed for teaching and others are meant just for fun. Our sets typically come with forty cards so some students may have more than one card. They are different than Readers' Theatre or traditional scripts because students don't play the same part all the way through.
As a teacher, you can decide if certain students will receive more or less text, making them easy to differentiate. Some cards require more or less acting, different voices or different amounts of movement. The teacher Quick Guide includes all the cards so you can assign specific cards to students if you choose. Otherwise, the cards can be handed out randomly. Don't worry about handing them out in order.
Give your students a few moments to read through their card (or cards) so they understand what they will be watching or listening for (the trigger for their card) and what they need to read or do. Encourage them to practice their card quickly.
We laminate our cards so they can be used year after year. It's not necessary. Students keep their cards until the end of the circle and then hand them in.
Drama Circles Developing Listening Skills
Students have to pay attention to what is happening around them so they know when to perform their card (or cards). This means they need to be listening throughout the activity. Give students cards with higher numbers which are performed later in the circle to prevent students from tuning out after their card.
Reading with fluency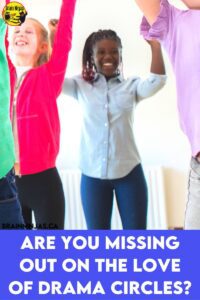 Students need to read their part from beginning to end fluently enough that the students can hear and understand it. The small amount of text and various amount on cards makes rehearsing easier and faster for most students. Teachers can choose the amount of text by selecting specific cards for specific readers. Students can practice their cards before the performance starts. If you have readers that have decoding difficulties, read the card to them before starting the circle and then let them rehearse a bit for confidence.
We include blank cards in our sets so you can change out text for your students.
If you have students that are reluctant or struggling, you might benefit from reading our post Practical Strategies for Reluctant Readers.
Reading with expression
So often we think of reading with expression as sounding like a performance. There is more to reading with expression than reading with an interesting voice. Students need to use the punctuation on the card correctly so the reading makes sense to everyone. They should accent or emphasize the correct words in a sentence to show the author's intended meaning.
A simple exercise you can complete with students if stressing different words within a simple sentence can change its meaning.
I love you. (When the stressed word is I, the sentence means that I am the one that loves you.)
I love you. (When the stressed word is love, the sentence means that the emotion is love as opposed to any other emotion.)
I love you. (When the stressed word is you, the sentence means you are the person being loved over anyone else.
Write another simples sentence with your students and demonstrate how stressing different words can change the meaning or intention of the sentence.
Building confidence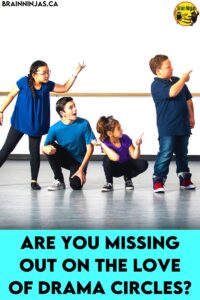 Drama circles provide a chance to perform for students who love an audience or limit the performance to just in front of the class for those who don't enjoy the spotlight. For students that love the spotlight, drama circles are an easy way to give them a chance to be the centre of attention. These students often enjoy getting more than one card, so they can handle the extra cards in a set. They also don't mind doing silly actions or longer amounts of texts.
For your more shy performers, you can assign shorter texts or cards that don't require overly flamboyant or silly actions. However, we have found that the low risk of drama circles has helped build confidence in all our performers. This comes with building trust between classmates.
The first time you complete a drama circle with your class, it won't go perfectly smoothly. That's ok. Start with this free one. As students learn and understand the process, they'll get better at thinking you ways to make the most of their part. Most of your students will probably be shy the first time around, so sometimes we read through a drama circle a second time. Do what is best for you and your students.
Try this drama circle. Find this How to Do A Drama Circle Activity in the Resource Library if you are already on our list. Not on the list? We can send it directly to your inbox.
If your students enjoy drama, you might try some other drama activities from our post: Ways to teach Drama in the Classroom.
Planning in a hurry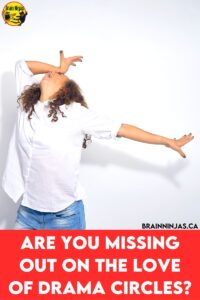 Drama circles don't require scripts, costumes or sets. Complete one within about an hour (or less if you have really strong readers who have done a few). You just need a space and the cards for a successful performance.
Print and cut the cards apart. Keep a set ready to go at any time. They are a convenient tool when the schedule changes last minute.
If you want to perform a drama circle for others, rehearse it so students don't need to hold their cards. This will make it feel like a real performance. They could stand in a line formation facing their audience and perform it a little like a Readers' Theatre.
We have several different drama circles. Each includes forty cards, a teacher quick guide, instructions for completing the circle, and a set of discussion questions.
Some of our circles are about holidays, celebrations or observances in Canada:
Other sets are about history and culture:
Having fun
Don't forget that drama circles can be fun. While some of our drama circles focus on difficult or serious topics, learning in this way is engaging for most students. Drama circles are more interactive than listening to a lecture or filling out a page of questions about a topic. Sillier sets that are just for fun can include interesting voices or wild actions.
If your students enjoy drama activities, you should read How to Add Some Drama to Your Classroom. Your students might also enjoy this bonus drama circle about being kind. Find it in the Resource Library or we can send it directly to your inbox.
What benefits have you found by completing drama circles in your upper elementary classroom? Tell us in the comments below.