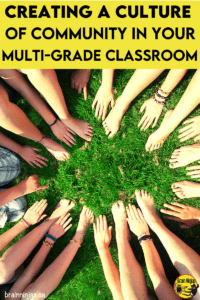 How do we create a classroom community where all students feel they are equal and belong? It turns out we've had more combined grade classes that straight grade classes since we began teaching, so we can't imagine teaching any other way. First of all, we call it a combined class rather than a split class. It's the first thing we do with parents because our combined classes are not like the old 'split' classes.
When students come into our classroom on the first day of school they immediately collect into two different groups-the lower grade and the upper grade. They don't know each other well and like to sit with their friends. We don't give students a seating plan right away (or sometimes at all) so we can see which relationships form or are already in place, but then we slowly start changing their mindset about the combined class.
So, What Are the Secrets to Creating a Classroom Community?
[Read more…]

about Creating a Culture of Community in Your Multi-Grade Classroom