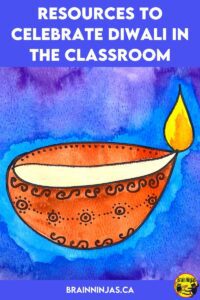 Diwali is the Festival of Lights. It is also known as Dipawali and it is the most important festival of the year for the Hindi religion. Other religions like Buddists also celebrate Diwali. While it was traditionally celebrated by Hindus, now it is more widely celebrated by people around the world including by Buddists, Jains and Sikhs. Since this celebration is important to many different people around the world, it is very possible you will have students in your classroom who celebrate. To those students, Diwali is as important to them as Christmas is to Christians. Many school districts in Canada have added Diwali to their school calendars. Read on to find resources you can use to celebrate Diwali in the classroom.
What is Diwali?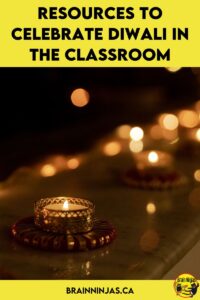 Diwali gets its name from the rows of lights used to decorate homes. It follows the lunar calendar and is celebrated on the fifteenth day of the eighth month. The month is called Kartik. This means it typically lands in October or November. It is the celebration of good winning over evil.
Diwali is celebrated over five days.
On day one people clean their homes. They shop for gold items and utensils which bring good luck.
The second day of Diwali is spent decorating the home. Clay lamps called diyas are lit throughout the home. Rangolis are intricate patterns made on the floor out of coloured powders or coloured sand.
The third day is the main day of the festival. Families gather together for a special prayer called Lakshmi puja (though other religions may use a different prayer). They follow the prayer with a feast and fireworks.
On the fourth day, families and friends visit each other to celebrate the first day of the new year. They exchange gifts and best wishes.
During the last day of the festival, brothers visit their married sisters. The sisters make a lavish meal and serve it with love.
Traditions During Diwali
Your students might be familiar with henna painting on the hands and arms. Mehndi is used during many other celebrations such as weddings and is thought to be good luck. Many of the symbols mean good health, fertility, wisdom, protection and spiritual enlightenment.
Lighting small clay lamps filled with oil is another tradition. People light as many as possible. The little clay lights are called diyas.
Rangolis are intricate patterns in the shape of lotuses. People create them on the doorsteps of homes. They are made with brighly coloured powdered or sand.
Feasts and treats are common in many celebrations. For Diwali people eat samosa, pistachio barfi, kalakand, bhajis, and basan ladoo. Many of the foods originated in India and are spicy or sweet.
Books for Younger Students About Diwali
Even though these books are designed for younger students, we still read them with our upper elementary students. Older students love picture books, too.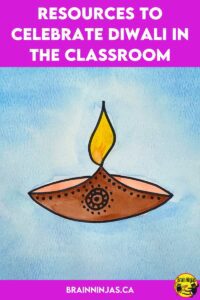 Binny's Diwali by Thrity Umrigar
Diwali by Hannah Eliot This book focuses on the five days of celebration. It is part of a series of books abour different world celebrations.
Let's Celebrate Diwali by Añjalī Jośī This is a great one to show how different religions celebrate Diwali.
Shubh Diwali! by Chitra Soundar
The Diwali Gift by Shuchi Mehta and Shweta Chopra
Amma, Tell Me About Diwali! by Bhakti Mathur
Archie Celebrates Diwali by Mitali Banerjee Ruths
Lighting a Lamp: A Divali Story by Jonny Zucker
Lots of Lights by Kavita Sahai While this book is a little American, it talks about how immigrants from India living in North American culture can be a challenge. It celebrates being Indian and celebrating all that means.
Diwali by Joanna Ponto and Michelle Parker-Rock
Rani Saves Diwali by Anita Badhwar
Diwali in My New Home by Shachi Kaushik While the main character now lives in the USA, students can still relate to being the only one who celebrates a specific holiday.
Lilu Makes Diyas by Devika Joglekar
'Twas the Night Before Diwali by Zenia Wadhwani
Books for Older Students About Diwali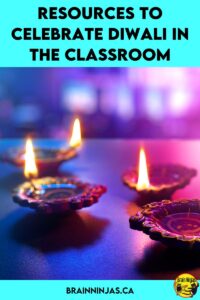 Diwali: Festival of Lights by Rina Singh This is a nonfiction book and is very helpful to educate others about the festival.
Celebrate Diwali by Deborah Heiligman This is another nonfiction book.
Prince of Fire: The Story of Diwali by Jatinder Verma This is such a great book. Our students loved it!
Lights, Camera, Diwali! by Amita Roy Shah
Diwali: A Cultural Adventure by Sana Hoda Sood
Rama and Sita: The Story of Diwali by Malachy Doyle
Diwali by Kate Torpie Another nonfiction book that can help with understanding.
Diwali: Hindu Festival of Lights by Dianne MacMillan
Videos About Diwali
There are lots of different videos on YouTube to learn about Diwali, but these are two that we have found useful. If you use Google Chrome, we use this free ad blocker. You do not have to pay for it, just exit out of the donation page if you are on a school computer.
We found this one very informative and at the right age for students. It also honoured the fact that families may celebrate diwali in their own ways.
Activities to Celebrate Diwali in the Classroom
Decorate for Diwali in the Classroom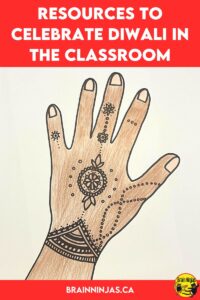 Have students decorate the classroom for Diwali. While lighting diyas will likely go against the fire code in your school, using battery operated tea lights should be acceptable. Students can create any of the pieces of art below and then use them to decorate your classroom.
Create a Collaborative Poster
Students can create a collaborative poster about Diwali. Collaborative posters are a colouring activity. Each student colours a piece before assembling them into a poster. Our poster sets come with 18, 24, or 36 pieces. Use them for any sized class. This set also includes a follow up activity where students can learn more about some of the symbols on the poster. You can learn more about collaborative posters in this blog post: How to Use Collaborative Tasks to Create Classroom Community. We love that it's a low risk learning opportunity for students. Find the poster in our Teachers Pay Teachers store or Brain Ninjas Shop.
Create Henna Designs
Students can trace their hands and then draw the intricate patterns used in henna painting on them. Find lots of designs found online. This video shows students how to apply henna. Over the years, we have occasionally had guests come do henna painting in our class.
We created a very simple art lesson for our students so they could create drawings that mimic henna paintings. You can find the lesson in our Resource Library if you are already a ninja. If you're not a ninja, sign up for our email list and we'll send this lesson directly to your inbox.
Write About Diwali
Even if students don't know much about Diwali, the can use these writing prompts. Each of the ten days comes with three different choices of prompts. The prompts include narrative, expository, persuasive and poetry forms of writing. Use these prompts on paper or using the included Google Slides version. Find the writing prompts in our Teachers Pay Teachers store or Brain Ninjas Shop.
Create a Diya Piece of Art
If you have access to clay, students can create their own diya. We have used these instructions to make diyas in our classroom.
We also drew diyas and painted them with watercolour paint. Our students needed a little more structure for this project. We wrote a complete lesson plan. If you are already a ninja, find this lesson in the Resource Library. If not, sign up for our email list and we'll send this lesson plan directly to your inbox.
Create a Rangoli
If your students are interested in these intricate patterns, you can find lots online. Download them and colour them in. We encouraged our students to draw and colour their own.
Looking for More Holidays?
Now that you're a pro at celebrating Diwali in the classroom, you might find these posts interesting.
Being Thankful in the Classroom
12 Simple Christmas Tree Projects We Love
How To Celebrate Halloween With Alternatives To A Party
How to Make Valentine's Day Love Trees
9 Easy Valentine's Day Ideas for Upper Elementary
Easy to Use Classroom Activities for Earth Day
How to Prank Your Students (April Fool's Day)
How to Acknowledge Ramadan and Eid With Your Students
Quick and Colourful Activities for Holi the Festival of Colors
How to Celebrate Asian Heritage Month in Canada
Black History Books You Should Use All Year
How do you celebrate Diwali in the classroom? Let us know in the comments below.