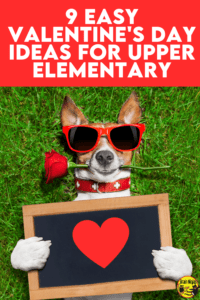 Valentine's Day in upper elementary isn't quite the same as the little kids or the older ones. It's this weird time in a kid's life when they are too old to care about paper cards but also want to be included in getting paper cards. They are just starting to have crushes but their maturity level is all over the place. We've spent a lot of time watching our Valentine's Day ideas flop. But not anymore!
Over the years, we've watched students in our Grade 4 and Grade 5 classes to see how they respond to different activities for Valentine's Day and we've settled on focusing on friendship and kindness. Some of these activities can be done any time of year because they are not specific to Valentine's Day. These are the best Valentine's Day ideas that were approved by our students.
Solve some logic puzzles
Our class typically loves logic puzzles. We keep paper copies of them in a folder in our fun and games bin. This bin is what we pull out for early finishers, indoor recesses or in emergencies when we need a moment to get things back on track.
Logic puzzles are great for critical thinking, problem-solving and reading skills. We started creating holiday-themed sets with our students. When the pandemic hit, our students wanted a way to do the puzzles at home so we made Google Slides versions. Now all of our sets come with a paper and digital version.
You can find our set of Valentine's Day Logic Puzzles in our TpT Store or BN Shop. It comes with ten puzzles and their answer keys.
Use a Valentine's Day theme in your math class
Math can be a great way to add any theme in. We like to treat our students to candy hearts and do this free decimals and fractions activity from our TpT Store. It's just one way we use candy in math class. You can find more ideas in this blog post How to Add Candy to Your Math Lessons.
If you are working on a different math strand this time of year, you might find our math worksheet sets fit your schedule better. Each set comes with fifteen pages that cover all kinds of math concepts with a Valentine's Day theme.
Valentine's Day Math Worksheets for Numbers up to 1000 can be found in our TpT Store or BN Shop. Our Valentine's Day Math Worksheets for Numbers up to 10 000 in our TpT Store or BN Shop. Valentine's Day Math Worksheets for Numbers up to 1 000 000 can be found in our TpT Store or BN Shop.
You can always browse all our worksheets for other holidays and sets for specific concepts in our TpT Store or BN Shop.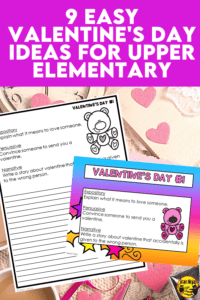 Use writing prompts
We write every single day. You can read more about that in this blog post Challenge Your Students with Writing Activities Every Day. This time of year, we like to add different themes. We have a set of Valentine's Day Writing Prompts. Each of the ten days has three prompts so students can choose what they want to write about. The prompts are available in paper and digital (Google Slides) formats. Find them in our TpT Store or BN Shop.
Create love poems to inanimate objects
One year we had a very creative group of kids that loved to laugh. They jokingly wrote a love letter to a teeny tiny pencil that needed to be thrown away. The writing was insanely good. Students wrote about how much they loved the pencil and all the good that it had done. One student talked about all the words the pencil had written.
They were so creative that the next year, we turned it into a writing assignment. The only rules were that it was a love poem to an object they loved. Many wrote using free verse, but some tried specific poetry forms that we have learned about. Students wrote about photos, toys, clothing and even a water bottle.
We printed out the poems neatly and published them. Some students typed them on a device while others wrote them out in fancy handwriting. Everyone decorated the pages or added a few little illustrations. They were a big hit.
For more poetry ideas check out the post How to Celebrate Poem in Your Pocket Day.
Write love letters from book characters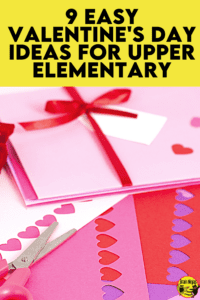 As one of those lessons on the fly, we asked students to write a simple letter from one character to another in the novel we were reading. This could work with any book.
You could also have students write love letters to or from book characters.
These don't need to be fancy. Some students added little cards or envelopes that were "made" by the characters.
It was great to get inside the minds of the characters.
Change the lyrics of love songs
This is a fun game. Choose any love song (and it doesn't have to be a sappy love song). Pick your favourite food. Rewrite the song as if it's being sung to or about the food. Let's take a quick look at an example.
Every time you come around, you know I can't say no
Every time the sun goes down, I let you take control
I can feel the paradise before my world implodes
And tonight had something wonderful

from Ed Saeeran's song Bad Habits
Now imagine curling up in bed with comfy pjs with a bag of potato chips and it becomes a whole lot funnier. Write out one verse and decorate the page with illustrations of the food.
Focus on kindness
We use February as a month to remind our students about being kind. This is the point in the year where we're all tired from being locked inside all winter. Our tempers are a little shorter because it's cold and dark outside. And we've been in the classroom for six months and have discovered all our little annoyances.
To bring some kindness back into the classroom, we start with a Kindness Challenge. You can find the challenge in our Resource Library or we can send it directly to your mailbox when you join our email list. The challenge asks students to think of others and perform 100 acts of kindness.
If you want to get your students writing, but don't want to focus too much on Valentine's Day, we also have a set of Kindness Writing Prompts. Find them in our TpT Store or BN Shop.
We fill our classroom with Books About Kindness. Many of the books become so popular they want us to read them out loud to the class. We are always updating and adding to the list.
Another way we include some kindness is through a drama circle. We'll send this kindness drama circle directly to your inbox when you join our mailing list. If you're already a ninja, you can find this activity in the Resource Library.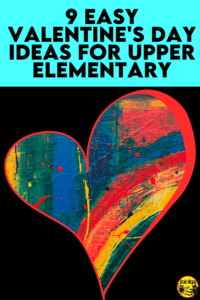 Create a piece of art
Any art project that uses hearts can work for this time of year.
A simple project is a piece of paper, markers, scissors and one piece of cardboard. Students cut out one heart from the cardboard. Trace the heart shape all over the page. Some of the hearts should fall off the page and the hearts can overlap in some places. Then students colour it in. Super simple, but looks great. Find more heart art projects in this post.
If you've talked about symmetry in math class, this quick activity might be just right. Give each student a piece of paper and scissors. Have them fold the paper in half (the direction doesn't matter too much). They will draw a large comma (or a squished C) so that the open part of the comma (or C) is up against the fold. Cut out the shape and students should have some sort of heart shape. It doesn't have to be perfect.
In fact, the wonkier the heart shapes are, the better. Then students will draw, colour or paint a simple scene on the heart. If you want to get fancier, add a piece of paper to the back to mount the heart scene.
We have previously created Valentine's Day love trees. This is one of those Valentine's Day ideas that can be used any time of year for all kinds of reasons. They use a little watercolour paint and coffee filters for a neat effect. You can find the whole lesson in this blog post.
Try a collaborative piece of art. In our collaborative posters, students colour one piece and they are reassembled into a poster. Our sets come with 18, 24 or 36 pieces and a follow-up activity to extend the learning. Find our We're So Sweet Collaborative Poster in our TpT Store or BN Shop.
Make it about the little kids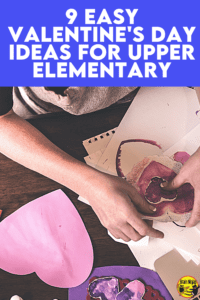 Volunteer to help the younger students in the school make and share cards with their classmates. Younger students might need help cutting pieces out or writing words. This can be a great bonding activity and older students can practice their leadership skills.
Make cards for younger students and deliver them personally.
Have your students plan a simple Valentine's Day craft they can make with younger students.
Choose a simple game your students can teach to the younger students.
Spend recess playing together outside.
One More?
You'll notice we didn't include anything about a party with food. Typically, we don't take the whole afternoon off for celebrating since we're a little older and have a lot of work to do. However, sometimes we will have a mini celebration during lunch or the last recess of the day where students get a treat.
Our school has a healthy eating policy so we don't encourage junk food. Instead, we plan out snacks for special occasions at the beginning of the year with a sign-up page at our Meet the Teacher event. Then, closer to the date, we send a reminder home.
You can find a copy of our snack sign-up page in our Resource Library. We can send one directly to your inbox when you sign up to receive emails from us.
So what other Valentine's Day ideas do you have for your upper elementary classroom? Let us know in the comments below.