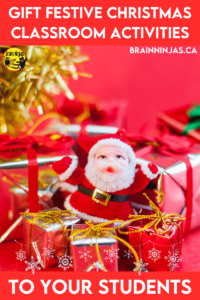 You know that week in December when you're constantly called down to the auditorium for concert rehearsals, some of your students are away sick, some have left for vacation early and you have to keep a classroom full of excited kids busy? Do you need some Christmas classroom activities to solve the problem?
Christmas is fun and all, but it's so hard to keep kids interested in learning and it's a challenging time to introduce new concepts with all those interruptions. What's a teacher to do?
We've got your back.
What Christmas Classroom Activities Do We Use?
It can be challenging to keep the learning going during December with everything that is going on. Therefore, we tend to spend a lot of time reviewing concepts and getting our students to practice what they have learned so far in the school year.
We do not celebrate Christmas in our classroom every year. It completely depends on the students who are in our room each year. Some years we stick to winter themed activities instead.
Logic Puzzles are the Perfect Christmas Classroom Activities
Logic Puzzles are a great way to bring reading and math together. They require a lot of concentration and skill. Above all most of our students love doing them, we love writing them even more.
We designed this group of Christmas Word Games, Writing and Puzzle Games for students to keep them engaged in learning. This set keeps students busy, but still having fun. It contains word puzzles, alphabetizing activities and writing prompts that are sure to keep them busy in between all the activities taking place in your school. They are designed to be short and sweet or as long and involved as you wish.
If you're looking for a set of Christmas Logic Puzzles that can be done with paper or digitally using Google Slides, we have that covered, too.
Make Logic Puzzles Self-Checking
We set up a folder with all the different logic puzzles. Students help themselves and do their best to solve the puzzles. When they complete the puzzle, they can check their answers in the answer binder. This is literally just a binder full of the answer keys. We print each page and put it in a plastic page protector (actually the truth is we print them and have a student helper put them all in the binder).
We have a free version that contains some activities from the Christmas Word Games, Writing and Puzzle Games and some from the Winter Word Games, Writing and Puzzles for you to try out to see if they're right for you. Our students love the logic puzzles. We've included instructions on how to get your students going.
If you really love logic puzzles, we've been working on a Logic Puzzle Holiday Bundle. They all come with paper and digital versions and lots of different holidays from the whole year.
Not too Christmas-y?
Not all of our students celebrate Christmas. Therefore, we try to have lots of equally fun activities available that do not include Christmas themes. We have lots of Winter Themed activities. None of the activities are duplicated in the two different sets (Winter and Christmas). As a result, you can use both sets simultaneously without worrying if the kids are repeating activities.
Christmas Classroom Activities That Use Math
Create a Shape and Space Gingerbread House
We love projects. Project based learning makes the engagement of students go through the roof. Last year we tried a new project that was so much fun.
We made gingerbread houses out of papier mâché. Yes, it was messy, but there was a lot of real learning that happened, too. We made nets out of cardstock which our students taped together in the shape of houses. We papier mâchéd these over a few days and then we painted them.
Honestly, we did this because making real gingerbread houses seemed completely unrealistic, but the kids had so much fun and were so creative. You can get your own copy of the Design a Gingerbread House activity.
Christmas Math Worksheets Combine the Holiday Fun and Practice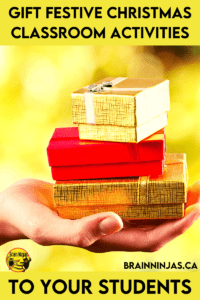 If papier mâché is not your thing (because it is a little messy) maybe you'd like to go a little more traditional. We made sets of worksheets for our students to practice math with a little Christmas sprinkled in. They aren't anything fancy, but they keep the kids busy.
Our Christmas Math Worksheets for Grade 3 come with a variety of activities to practice place value, addition and subtraction (with regrouping up to 999), multiplication/division (with arrays up to 5 x 5 = 25), bar graphs, concrete patterns, word problems and representing simple fractions.
Christmas Math Worksheets for Grade 4 comes with fifteen practice pages about addition and subtraction (with regrouping up to 9 999), long multiplication, long division (up to 7 x 7 = 49), fractions, adding and subtracting decimals, pictographs, bar graphs, reading clocks, place value and word problems.
The Christmas Math Worksheets for Grade 5 includes addition and subtraction (with regrouping up to 99 999), multiplication/division (up to 9 x 9 = 81), comparing numbers, adding and subtracting decimals to hundredths, double bar graphs, perimeter, area, volume of rectangular prisms, place value and word problems.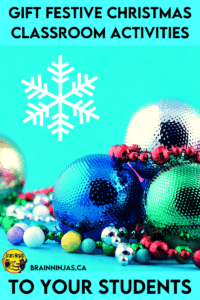 Include Christmas Themes in you Language Arts
We use these daily writing prompts all year round, but during the weeks leading up to Christmas, we use this set of Christmas Writing Prompts. The set contains ten days of prompts and each day has three prompts to write in narrative, expository, persuasive and occasionally poetry forms. The prompts can be done on paper or you can project the posts digitally.
If you want a short lesson, try our Types of Sentences activity with a Christmas theme. Students learn about the different types of sentences and the punctuation they use with a short interactive notebook activity. Then they practice what they've learned with a set of task cards. The cards can be printed, used with Google Slides or they can even be assessed if you use the Google Forms version (all the versions are included).
Go Digital With Your Christmas Classroom Activities
What Would an Elf Post on Social Media?
Our students have access to Chromebooks all the time, so we were looking for something that was fun. We wanted something that could help them practice some of their tech skills. We hid the learning under a fun task: make a social media profile for an elf (including an "elf"-ie).
You can get your own copy of the Elfbook Digital Creative Writing Task. It works with Google Slides and Google Drawings and will download a copy directly into your Google Drive.
This is a great activity to have students practicing basic technology skills in a fun way (and without too much pressure). It's also a low-risk way for teachers to dip their toes into technology in the classroom.
Make Digital Christmas Cards
Our students love to create things with Google Drawings. You don't have to assign anything particular, but have them experiment with different ideas. Some of our students even made Christmas cards.
You can find out what we do with the cards by reading our post: Create Community with Handmade Christmas Cards. We print them off so we can deliver them to members of our community.
Our Students' Favourite Christmas Classroom Activities are the Simplest
Read a Christmas Themed Book
We set up a box of Christmas books where students browse books anytime during the season. Over the years we've created a collection of titles that you can collect yourself: Christmas Books We Love.
Sometimes we'll put on the fire (by that we mean turn on the fireplace screen on our projector), turn down the lights, curl up with blankets and flashlights and have a good read. We've even been known to brew some hot chocolate with marshmallows to add to the effect.
Give Back to Your Community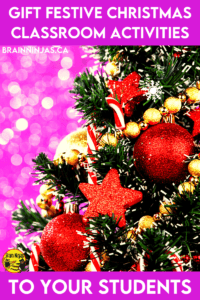 Some year's we collect different items for different charitable organizations. Look into different groups in your community.
Food banks are usually willing to partner up with schools to collect food or money donations. Many groups help put together meals for families.
Some groups collect toys or books for less privileged children.
Groups that help people affected by homelessness are often looking for specific donations for items or money. In the past, we've collected new socks, new underwear, toothbrushes, toothpaste, bus passes and backpacks.
Go Caroling or Have a Sing-A-Long
If your students know the words to a few Christmas carols, take them around the neighbourhood to sing to members of your community. Senior centres often welcome visitors for a song or two.
If going out into the community isn't an option (because some years it is too cold), have a sing-a-long. Technology makes this much easier now. Just search for Christmas karaoke on YouTube for lots of song choices.
Keep It Simple
If you're looking for some other ways to keep the kids busy, but also calm, check out our post Calming the Chaos.
Break Out Your Creative Side
We have a small makerspace in our classroom. It's just a table with a shelf full of random things our students use. You may want to read some of our posts about makerspaces if you're interested in how we do it. Read What Goes in a Makerspace?
We always keep materials in our class that can be used for crafts. The kids turn this stuff into gifts for their families. Here are some of our favourite crafts. Each is listed in their own post with all the instructions you'll need to make your own: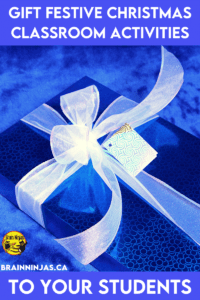 If you need an art lesson with a bit of structure, we created this set of Christmas Art Projects. Each project comes with a set of lesson plans for the teacher, photos of student examples, reflection pages and suggestions for modifications.
Set up a Christmas Tree for Decorating
We set up a Christmas Tree with lights. Students hang all their ornaments that they've made on the tree until the last week before going home. They take them off the tree and wrap them as gifts.
Ninja Note: To keep track of the ornaments, encourages students to place their initials on them. You can also have students take pictures with their ornaments to keep track.
Need a few other craft ideas?
If you're looking for an adorable craft and Christmas gift for the parents and guardians of your students, try out our Christmas Creature Stocking Ornaments. You can find a copy in our Resource Library or we can send one directly to your inbox when you become a ninja (join our mailing list).
You can also try our Snowman Heads art activity by joining our email list or grabbing it from the Resource Library.
---
What are some of your favourite things to do during this busy month? Leave us your thoughts in the comments below.