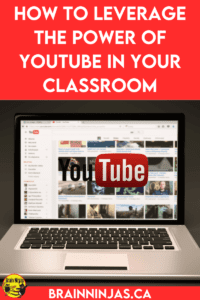 As you know, YouTube is a wealth of resources for professional learning, both for fun and for learning how to fix your broken gas dryer (ninjas like to fix their own things, after all). Using YouTube in the classroom with your students is also a powerful tool (assuming you are allowed to)! Schools and districts that block YouTube are living in the wrong century! To us, it would be like banning a library (but that is a whole other issue and worthy of its own post).
One thing the pandemic has shown is how technology is important and access to online services is not equal everywhere. It is more important than ever for everyone to have access to the Internet and online tools. Every job application is now digital. People get paid through online services. Even accessing health information is done online.
Students need to have access to devices that can help them navigate the Internet. This means students need to learn more and earlier about the dangers and pitfalls.
But the Internet can also be a wealth of information if students are taught how to look for it, where to find it and how to judge its accuracy (a skill many people didn't learn before the pandemic).
We think it's important to model how to safely and responsibly use technology in the classroom by teaching students how to use it authentically in our classroom. If your students are just starting to use technology, you might benefit from reading our post Must Know Tech Skills You Should Teach Your Students. If your students are a little further along in their learning, you might find this post helpful: More Advanced Tech Skills You Should Teach Your Students.
Subscribe to Channels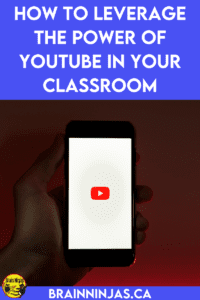 There are people out there (with lots of extra time on their hands) who have their own YouTube channel where they post videos they have created. There are channels on everything you can imagine, from pasta to poodles. When you are on YouTube you can click on the red Subscribe button just below the video when you find a channel you like. This allows you to easily access all their videos at once. Some examples of Education Channels are TEDEducation, Google Education, Discovery Education .
As a teacher, it is an invaluable tool. There are so many things you can do. Remember, you need to be signed in to your Google account first.
Create Playlists
You teach the same subject year after year and want to support your teaching with videos, just create a playlist! When you find a perfect video that shows, for example, a chemistry concept that would be too dangerous to do at school (you wouldn't want to run the risk of burning the school down after all), add it to a playlist by clicking on + sign where it says 'Add to' you can add it to an already existing Playlist such as Chemistry or create a new one.
This is a great way to curate a list of teaching videos (especially if you don't have time to create your own). Make a playlist for each topic, subject, or theme.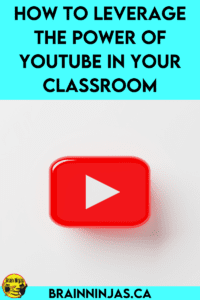 Create Your Own Channel
You and/or your students have made some stunning and breathtaking videos on Lattice Multiplication, and you want to share them with the world — upload them to your own YouTube Channel. Make it private or make it public for the world to see, but it's a great way to share ideas.
Record lessons or the steps for an activity and then publish it privately. Add the link in your Google Classroom (or a similar Learning Management System) so students can access the materials anytime from home or school. These do not need to be perfect or polished. Just record the steps for division or the requirements for an assignment.
Ninja Note: If you are uploading videos of students, make sure that you are allowed to, or that you have received permission from parents. Check the rules to follow in your school or district.
Use it in Your Assignments
As a Google school, we can easily access YouTube, and we use it frequently. You can assign a YouTube video to watch to your students through Google Classroom and provide them with an assignment to accompany the video.
Ninja Note: You might need to teach them how to learn from a video before you assign the work.
It's also an opportunity for extending learning. For example, we have been studying Indigenous People in Canada. Our students showed a great interest in learning about the traditional dances of different nations within Canada. Using student interest, we started to explore dancing by watching YouTube videos. While we'd love to have dancers come to our school and teach us about their regalia and dances, this hasn't always been possible. It provides accessibility and evens the playing field for learning.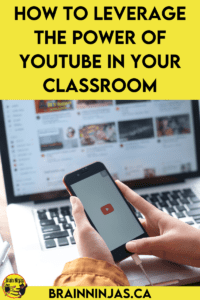 Teach Digital Citizenship
We understand that allowing students on YouTube can be problematic, but it is also a perfect opportunity to teach students about digital citizenship. How do you search things properly (search terms)? What do you do when you encounter something inappropriate? How can you gather information from a video? How do you reference something you find on the Internet? And let's be honest, how many kids already access inappropriate things at home? All valuable lessons in today's world that will serve them well.
How to Behave on the Internet In General
We created an entire unit on digital citizenship. Most of the activities can be done offline. You can find our Digital Safety and Citizenship Unit in our TPT Store and BN Shop.
Turning Off the Auto-Play Settings
It is important to turn off the auto-play settings when showing videos to students. It prevents unfortunate accidents where inappropriate videos pop up. On a desktop computer: On the page for a video, select Autoplay, which is the button below the playhead (next to CC). Autoplay will turn off. On a mobile device or iPad: With a video open or playing, select the Autoplay button at the top of the player to turn it off.
Ad Blocking
Ads on YouTube can be a problem. We use AdBlock from the Google Chrome Store. Our school district has applied it to all our devices. It's free, so most districts are fine with it being added. Quiet Tube is another option.
General Expectations for Using Technology
Are you looking for ways to teach your students some of the basics of using technology? We have a few posts that go over the basic skills we teach our students in our regular classroom: Must Know Tech Skills You Should Teach Your Students and More Advanced Tech Skills You Should Teach Your Students.
Need a quick checklist to see what your students should be able to do? You can find our Technology Teaching Checklist in the Resource Library. If you're not on our mailing list yet, we can send it directly to your inbox when you become a ninja.
Share Classroom Learning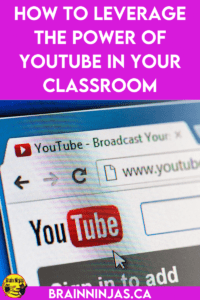 With the permission of your parents and guardians, you can create videos of class activities or performances and then post them with a private link that can be shared in your school's parent portal. This way, it is secure, but parents or guardians unable to attend these events can have the chance to view them. Be sure to explain that parents should not be sharing the link elsewhere. Remove the link once it's been viewed.
This can be a great option for concerts, assemblies and presentations that are done at public events. It has been very handy during the pandemic when we aren't able to gather in large groups or where parents and guardians are unable to attend.
One year our students made a commercial for a local business as part of a language arts project. They shared the commercial with the business and asked if it could be shared publicly. We were able to get media releases signed, and the video went public. After that, ALL our students wanted in on the projects.
Nothing boosts engagement like the opportunity to create videos for an authentic audience.
---
How do you use YouTube in your class? What other sources of videos do you use?