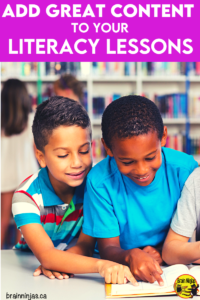 It took fifteen years of teaching and professional development before we felt confident in teaching reading to students in upper elementary. Teaching reading is one of the most important skills any teacher is responsible for, but it is often taught by stabbing at strategies until something works-only to find it doesn't work for the next student.
The most important thing we've learned is that reading comprehension skills are also skills related to grammar, word parts, word families and patterns, and writing. The same skills are used in a variety of ways.
If a student missed one of these skills, they trip over it in everything else.
By the time students get to the end of Grade Three, if they aren't reading at grade level, they are unlikely to catch up. So, what is a teacher to do?
[Read more…]

about Add Great Content to Your Literacy Lessons