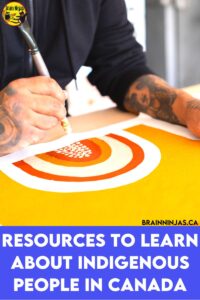 It can be tricky finding books and resources that are good for students to use for research about Indigenous People in Canada. Most are not at the right reading level. Often, they are either outdated. Old resources are inaccurate. Many depict stereotypes of Indigenous cultures. More resources written by Indigenous authors are starting to become available. Books are thoroughly checked for historical accuracy. New books highlight current events and issues. We have been collecting some of the Indigenous resources we find most helpful. Come read about some of the Indigenous resources we use.
What to Look for in Indigenous Resources
Firstly, start with the date when you are trying to decide if a book or online source is good for classroom use. Anything before the year 2000 should be weeded. It is unlikely to be correct. Books and websites before 2010 often use the wrong words to describe First Nations, Métis, and Inuit people. Review them before use.
Secondly, look at the language used to describe people. If the ways of life of Indigenous People are described as "wrong" or "savage," the book should be tossed. Colonization maintains these stereotypes.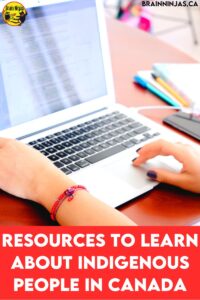 Thirdly, images should be historically accurate. Photos didn't exist. Paintings shouldn't depict all people in loincloths or with feathers in their hair. Different nations had different types of traditional regalia worn for different purposes. During ceremonies, hunters wore different clothes. Inuit didn't live in igloos year round. They did not spend all their time at war with colonizers.
Fourthly, look at who is writing the book. Is the author Indigenous? Is an institution doing the research? How has the research been done? Who was interviewed or sourced?
Next, Are the two sides of the story accurate? Colonization and assimilation were designed to remove Indigenous People from the planet. Books should not depict this as "helping" or "saving." Telling the truth while learning history is important. Generations of Canadians have wrongly learned about the impact of colonization, mostly by intentional design. It is our job as teachers to teach the truth.
When in doubt about a book or website, don't use it. Ask your school board for a list of approved materials. Elders often review these lists.
History and Stories
Canadian Geographic
The Indigenous Peoples Atlas of Canada is a series put out by Canadian Geographic. They are a series of four beautiful books. Former Alberta Education Minister, David Eggen, donated copies to schools in Alberta. You might have a copy at your school. Students can access the digital versions for free. This series has excellent images, diagrams and maps. The reading level is high. As a result, we read passages aloud. This makes it easier to discuss.
Government of Canada
The Government of Canada has put together resources available for teachers for free. The site is divided by age groups. It contains different age-appropriate lessons and activities. Visit the Government of Canada site here. They have a page for National Indigenous History Month.
CBC Kids
CBC Kids has a series of articles that are written for students and have wonderful photographs. The articles are fairly easy to read. Since they are online, you can use assistive technology or just read them aloud with your class. Some of the articles include activities. For example, we read the Four Indigenous Games to Try article and then played the games in class.
Here are some of the ones we've loved (and there are so many more, but we couldn't list them all):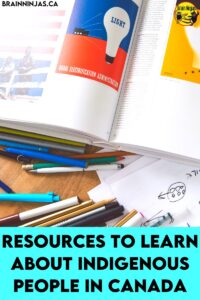 Brain Ninjas
If you are looking for resources to teach about Residential Schools, we have a whole other post dedicated to resources. You can find it here Activities for Orange Shirt Day: Every Child Matters. It is divided by age group. We use all the younger books in our upper elementary classroom.
Historica Canada
Historica Canada has put together an Indigenous Arts & Stories Teacher Kit, which is available for free. It comes with lessons, activities, and ideas for how to talk about sensitive information and background information for teachers.
Métis Nation
This website contains lots of information specifically about Métis people across Canada. Visit it here.
Use the Research We've Already Done in Projects
We have used the resources listed above to do research projects in our classroom.
You can find Indigenous People in the Past in our TpT Store and BN Shop. It focuses on how Indigenous People lived off the land in the past and how modern life may change some of those traditions. It includes background information to save you some time. And you'll know if the information your students find is accurate.
Design an Indigenous Shelter focuses on learning about different shelters used by different First Nations, Inuit and Metis people for different purposes. Students create a museum display to educate others about the shelter or dwelling. We have included some background information to help reduce research time. Find it in our TpT Store and BN Shop.
Ceremonial Plants of the Indigenous People in Canada is a project where we've already done all the research for your students. We've put it together so your students can practice research skills. Skills like reading a map, taking notes and using images to gather details are important for students to learn. The best part is that we've put it all in a format that is easy and ready for your students to use. This project is available in our TpT Store and BN Shop.
Indigenous Authors are Indigenous Resources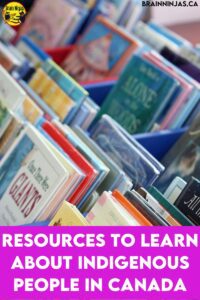 Every day there are more and more authors from different First Nations, Inuit, and Métis communities. Whether fictional stories or non-fiction accounts, books written by Indigenous authors provide valuable insight into the lives of Indigenous People before and during colonization. Until recently, it has been missing from the education of most Canadians.
We have already written an entire post, Learn the Truth With Books by Indigenous Authors. Below are some of the better non-fiction books we use for research.
Strong Nations has put together a list of approved resources for BC. They are open to finding resources for other provinces and territories. One series by various authors is We Are All Connected. These are easy to read and full of valuable information. We use them to better understand specific First Nations, Métis and Inuit cultures.
Here are a Few of the Books We Love
The Sharing Circle: Stories About First Nations Culture by Theresa Meuse-Dallien This book contains easy-to-understand spiritual traditions of different First Nations. A student from the University of Calgary has written a free lesson plan to use with the book.
Go Show the World: A Celebration of Indigenous Heroes by Wab Kinew This is a rap that showcases Indigenous People in Canada and the USA over time.
Sweetgrass by Theresa Meuse This is a great book to learn about one of the four sacred medicines. We really hope this becomes a series with all four plants.
Speaking Our Truth: A Journey of Reconciliation by Monique Gray Smith This is a great book about how everyone can be part of the truth and reconciliation journey.
Turtle Island: The Story of North America's First People by Eldon Yellowhorn and Kathy Lowinger. This book starts before European contact and continues to modern day. Since it covers so many topics in detail, it should be in every classroom.
Indigenous Artists are Indigenous Resources
Learning about Indigenous Artists can help students hear stories directly. Many artists use their art to tell stories. Different Indigenous groups often have their own artistic styles. Beading is popular in First Nations across the prairies. Carving is common among the Haida and Salish along the Pacific coast.
Dana Standinghorn
Dana Standinghorn is an artist from Sweetgrass First Nation in Northern Saskatchewan. Her Instagram account is full of her beautiful artwork. She usually paints abstract works with lines that feel like they are moving across the page. Most are paintings of acrylic on canvas. Occasionally, she uses other media.
Jason Carter
Jason Carter is from Little Red River Cree Nation in Alberta. His bright and vivid paintings are filled with Canadian nature scenes. He carves stone as well. Public locations like the Edmonton International Airport, the South LRT station in Edmonton, and the Calgary International Airport feature his recognizable art style of bold lines and bright colours. Many art shows, art galleries, museums and homes across Canada feature his work. His website contains his gallery works and a biographical video from himself.
Leah Dorian
Leah Dorian is a Métis artist whose bright artwork is featured in many books, galleries and homes. She uses many dots throughout her pieces and lots of symbolism to tell stories. Her pieces often show the connection between people and the land.
We created an art lesson based on her work. Read How to Explore Métis Storytelling Through Indigenous Art Lessons.
Christi Belcourt
Christi Belcourt is a Métis artist whose acrylic paintings feature floral patterns that resemble beadwork. She uses her artwork to speak against political issues, like the environment. This Painting is a Mirror is a beautiful piece.
Benjamin Chee Chee
Benjamin Chee Chee's work was simple line drawings with a bit of colour added in. They were mainly acrylic on paper. The majority of his most famous pieces feature drawings of black geese. His drawings are simple. They show the beauty of the movement in the birds. He was an Ojibwa Canadian. He lived a tragic life of loss until he took his own life in 1977.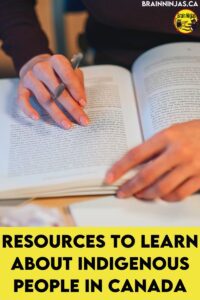 Bill Reid
Bill Reid was of Haida descent. He did not explore his Haida background until he was an adult. His mother was Haida, and his father was American. He carved elaborate works. They are found all over the world. He explored different styles, materials and sizes of sculptures. There are three main phases in his art career. He died in 1998.
George Littlechild
George Littlechild is a Cree artist from the Edmonton, Alberta area. His artwork is bright, bold and whimsical. His paintings almost look like works with oil pastel. He has illustrated many books and authored This Land is My Land. His First Nations name is Nanekawasis.
Aaron Paquette
Aaron Paquette is a Cree artist, author, advocate and politician living in the Edmonton area. His bold and bright works of art are found in many public spaces. You can see one in the Government Centre LRT station in Edmonton.
Kenojuak Ashevak
Kenojuak Ashevak was an Inuk artist known for drawings, etchings and prints. You can see her artwork on Canadian money, stamps, and in museums. One of her most known works is "Owl's Bouquet." She was featured in a Heritage Minute. She became famous in Canada.
Use Resources During National Indigenous History Month
June is National Indigenous History Month. Indigenous history is Canadian history. It should be woven throughout all our lessons all year long. June 21 is Indigenous Peoples Day in Canada.
One way to celebrate culture is to play games. Lots of different games are online, including those from Active for Life and Mamele'awt Indigenous Education Centre.
We have used the Bone Game for years. Play it any time of the year. You can find a copy of how to play in our Resource Library. Join our email list, and we'll send a copy directly to your inbox.
Do You Know of Indigenous Resources We Should Use?
We are always on the hunt for new and accurate resources. We're looking for historical and current Indigenous views. If you know of a great book or online source, please let us know in the comments below.