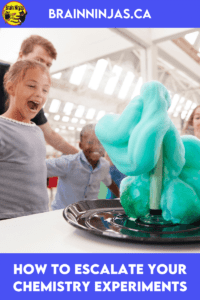 Our classroom chemistry unit is one of our favourite to teach because it allows for so many opportunities for students to explore and experiment. Sometimes we let students explore on their own by posing questions to them. Other times, we demonstrate experiments. Either way, experiments take a bit of work to set up, do, and clean up. Don't let that stop you. Here are some of our favourite chemistry experiments!
Generally, we do a whole chemistry unit. These experiments are only one small part of our overall unit which takes about three months. Getting your classroom ready for a chemistry unit is the first step. The items in these lists are basic items we keep in the classroom during the unit, though some experiments require specific materials.
Things to Collect for Chemistry Experiments
When we first began our chemistry unit, we went through a box of materials that were left behind for us to use. Most of it was garbage and needed to be tossed, but there were a few items that we found we needed over and over again. The items in this list are reusable and can be used throughout all your science units.
measuring cups with the measurements on them
measuring spoons with the measurements on them
good quality sieves
iron filings
magnets
a fan
a large container that can hold water (like a bin or small tub)
plastic/reuseable cups and bowls
reuseable spoons, forks and dinner knives
small glass jars (baby food size)
medium size jars (jam/spaghetti sauce size)
test tubes
beakers
cloths for clean up
small brooms and dustpans for clean up
Household Materials to Collect for Chemistry Experiments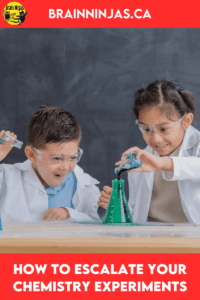 We asked our students to send household items that we could use for our day-to-day experiments. They brought the items in labelled jars or plastic bags. These are the materials our students use up during the unit.
flour
white sugar
baking soda
baking powder
cornstarch
salt
pepper
liquid dish soap
coffee
tea
clean sand
sawdust
Household Materials We Buy for Chemistry Experiments
These materials are used for specific experiments or are a little more difficult to find, are for specific experiments or shouldn't be left with students unsupervised. These items are used up during the unit, or we store them at the school if any is left over.
rubbing alcohol
vegetable oil
food colouring
pipe cleaners
Borax
alum
Epsom salts
bluing solution
ice cubes
coffee filters
Teach Basic Chemistry Safety
The majority of the experiments students do in our class can be done safely without much supervision. That being said, we teach our students from the beginning that they should not be tasting or eating our science projects unless they are given express permission.
Even science projects that use materials that seem edible can be a problem. You never know what was in the container before your "edible" experiment. Students are taught that chemistry experiments and edible experiments need to be kept apart.
Teach the Scientific Method
We teach students to use the scientific method when completing an experiment. This doesn't have to be a long, drawn-out process as we review it for every single experiment we do (that doesn't mean students have to write out every single step).
Generally, we teach students that the purpose of the scientific method is so that other scientists can replicate the experiment. If you're done it correctly, other scientists should be able to get the same results.
When we're doing experiments, we use these Chemistry experiment pages. You can grab a copy in our Resource Library or we'll send a set directly to your inbox when you join our email list.
Chemistry Experiments You Can Do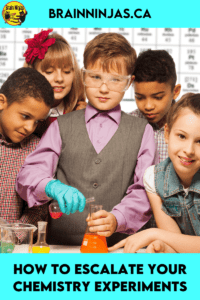 A Toothy Experiment
Materials: teeth (ask students for their old baby teeth or use hardboiled eggs), baby food sized jars, different liquids that people drink (orange juice, cola, coffee, tea, lemonade, milk, water), a tray
Question: Which liquid will decay the tooth/egg the most after one week?
Hypothesis: Have students choose which liquid will decay the tooth/egg the most after one week.
Procedure: Label each of the jars with a different liquid. Fill each jar halfway full with a different liquid. Place one tooth or the egg in each jar. Record your observations. Please the jars on a tray and store them in the refrigerator. Observe the jars again each day for a week. If there is not much change, view the jars every two to three days. Record all the observations.
Ninja Note: You can leave the experiment in your classroom if you don't have a refrigerator, but be warned the milk and eggs will rot and stink.
Observations: Students can write down what they see.
Conclusion: Acidic liquids decay the tooth/egg faster. This is why dentists want us to look after our teeth.
A Chunkier Experiment
Materials: a can of Red Bull, a cup of milk (the more milk fat, the better), a large glass or jar, a spoon
Question: Can two liquids make a solid when mixed?
Hypothesis: Students will write their decision. If they have any facts to back up their point, they should include them.
Procedure: Pour the Red Bull into the glass or jar. Add the milk. Observe.
Observations: The milk will curdle and create clumps of solid material (called precipitate).
Conclusion: When the milk and Red Bull combine, a chemical reaction occurs creating a new product (precipitate).
You can find other people doing this experiment online if it is not an option for you, but be sure to preview any video before showing it to your students.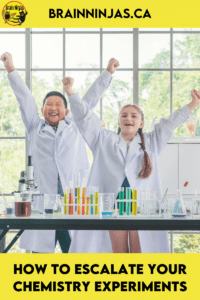 The Messiest Experiment
This one is a classic chemistry experiment that is best done outdoors where the mess can evaporate.
Materials: one 2L bottle of Diet Coke (or no-name brand diet cola), one package of Mentos
Question: What will happen when the mentos are dropped into the Diet Coke?
Hypothesis: Students will decide what they think will happen.
Procedure: Open the bottle of Diet Coke and place it away from the crowd of students where it can spray without making too much mess. Cut open one end of the mentos package and loosen the packaging so they can slide out of it. Drop the package of mentos into the bottle and run away.
Observations: The Diet Coke will fizz and spray out of the bottle. When the fizzing stops, most of the Diet Coke will not be in the bottle.
Conclusion: The mentos and the Diet Coke create a gas that pushes the Diet Coke out of the bottle. When two products create a gas, it is a chemical reaction.
Ninja Note: You can get a similar reaction by dropping antacid tablets into water, but you'll just get bubbles instead of the "explosion."
You can find other people doing this experiment online if it is not an option for you.
Chemistry Products We've Created
We've created several resources to help you get through an entire classroom chemistry unit. Each of these sets come with complete lesson plans, materials lists, student pages, student templates, answer keys and when possible, photos of student examples.
States of Matter: This set of activities helps students learn about solids, liquids and gases.
Mixtures and Separation: Teaches students about the different types of mixtures such as suspensions, solutions, and emulsions.
Chemical & Physical Changes: Helps students understand the difference between reversible and irreversible changes along with evidence of chemical changes.
Chemistry STEM Challenges: Students can explore different experiments to practice the scientific method while learning basic chemistry concepts. These make great centres or demonstrations.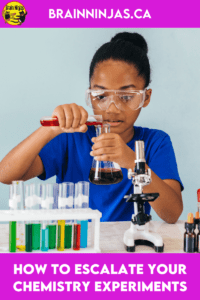 Acids and Bases: This set helps students understand the difference between acids and bases and how they are measured.
Crystals: Students grow different types of crystals. Some of the crystlas use basic household materials like salt or sugar, but recipes for alum, bluing, Epsom salts, and Borax are included, too.
We also have support materials for the unit. This set of Chemistry Reading Passages is a great way to help students gather some background knowledge between experiments. Word Wall Words (just the words) and Flash Cards (words and definitions) can help students learn key vocabulary and their meanings. Those sets come with a blank page so you can add important words with your class. This Digital Review Game is a self-checking game to review all the chemistry basic concepts.
And all of the above sets come in one big bundle, where you get a discount.
If you teach Language Arts, we have a set of reading passages that include word and comprehension activities. The individual topics are Fireworks, Peanut Butter, Green Ink, and Insulin. They also come in a Canadian Chemistry bundle at a discount.
Do You Teach Science in Alberta?
We have written units for all of grade four and five lessons based on the Alberta Program of Studies. We have other posts about some of the topics.
And all of our science units are combined into big year-long bundles so you can have all your science lessons planned out at once. They align with the Alberta Program of Studies.
Grade 4 Alberta Aligned Science: includes units for Waste in Our World, Plants, Light and Shadow, and Simple Machines (for Wheels and Levers).
Grade 5 Alberta Aligned Science: includes units for Wetlands, Weather, Chemistry, and Electricity and Magnetism.
Do You Have a Favourite Chemistry Experiment?
We want to hear about it. Share it with us in the comments below.