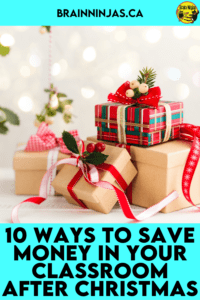 Phew! You made it! Christmas is over, but remember how crazy and busy it was? We always get prepared one year in advance. Are we crazy? No, just thrifty. There are lots of benefits to planning out a year ahead. It means you can find lots of deals after Christmas that you can use for the classroom.
While some of these items are used for Christmas in the classroom, most can and should be used all year round.
Things to Avoid
For items that you plan to use all year round, avoid items with any overtly religious tones. Try to stick to snowflakes, winter, penguins and other less holiday-themed items. We try to find solid coloured paper or cards that can be used any time. This way you can get more use out of them.
Save Money By Being Organized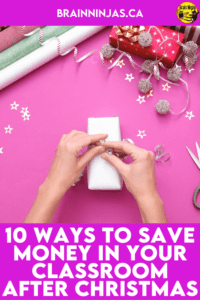 There is nothing worse than buying things in advance, putting them away, forgetting where you put them and then having to buy them again. If the items just sit and don't get used, it's really not saving any money.
Another trick is to stop spending at some point. Maybe you don't need it (even if it is a deal).
Start with keeping track of what you are buying. Before you buy anything, check to see if you already have it. Christmas items tend to be put away together. Try to do the same in your classroom. You don't want to spend more money on something you already have.
We keep a box labelled Christmas in with our other stored items. We keep items that are used for Christmas. Other items are put in boxes and labelled what they are (like wrapping paper, lights or toys). This makes things easier to find when we need them.
Inside each box, we place a piece of paper on the top. We write down what is in the box. This way we don't have to search through the whole box to find something. When we remove items from the box, we cross them off the list.
Go through your items once and a while. We guarantee you'll find things you meant to use earlier. It happens to all of us.
If you have a plan for using something, write it down on a sticky note and place it into your planner closer to the time of year you might use it. The note will serve as a reminder to look for the items in advance.
Ten Things to Buy After Christmas
Christmas Cards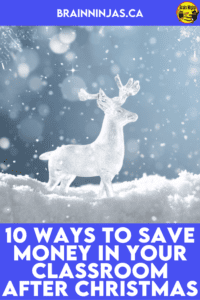 Cards are always on sale right after the holidays. We've found some as low as 75% off. You can buy cards for your students and co-workers for next to nothing. Make sure you get enough for everyone. Think about how many you used this year to make an estimate for next year. If you want to use the cards for other seasons, look for blank ones.
We write out Christmas cards for students with names around Thanksgiving and wrap presents for students at the same time. It gets too busy around the holidays, so anything you can do in advance will save you time.
We use cards for art projects and decorations, too. You can check out our Recycled Paper Ornaments post for some ideas on how to use them.
Another way to use the cards is to have students write notes to senior citizens or people who receive charitable services. They love receiving cards from young people.
Wrapping Paper
You never know when you'll need seasonal wrapping paper for all the school events or to wrap student gifts. Look for paper that can double as birthday or wedding wrap so you can use it at home during the year. Patterns and solids that don't have any Christmas symbols on them are a steal.
Paper with patterns is great for art projects or that patterns unit in math. Create art projects with it. We love this project that uses wrapping paper. Read it here Simple Christmas Tree Projects We Love.
Toys and Games
Often these go on sale during and after the holidays and are great for your bin of indoor recess activities. Look for dice, dominoes and other game pieces you can use year round-especially math games!
Christmas (or any other holiday) puzzles are a cheap way to get puzzle pieces for art or crafting projects.
Christmas crackers are a fun game (and a gift at the same time) in the classroom.
Sometimes we use these items as prizes for random events during the school year.
We look for decks of cards. Quick games are great, too. More ways to get organized for indoor recess are in this post: You'll Love These Exciting Winter Classroom Activities.
Christmas Craft Materials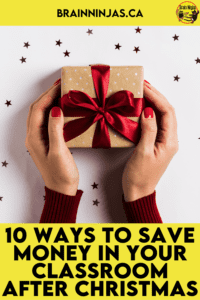 Things like tinsel, jingle bells and ribbon are always on sale after the holiday and most of these can be used in projects any time of year. Glitter! Googly eyes! Even ornaments can be turned into new projects.
While many of the supplies might be red and green, they can be used any time. Green makes great plants and red is wonderful for Valentine's Day.
We keep a bin of crafting supplies available in our classroom and use it for everything from Makerspace activities, science, art and math. If you're looking for a list of items to use in your makerspace, try this post What Goes in a Makerspace?
Fitness Gear
Yes, believe it or not, this is a great time to buy fitness equipment. What does that have to do with school? Items like balls, games, rubber bands and mats are often on sale this time of the year. We use them both in gym class and for movement breaks in the classroom. This doesn't mean you have to spend your own money. Get a list together before the holidays and ask for the money from your school for the specific items. Sometimes parent groups will help fundraise for these types of items.
Winter Clothing
If you find yourself constantly helping out students by providing hats or mittens, this is a good time to grab a few extra. They might be Christmas-themed, but they will be cheaper and still keep kids warm. We always keep a couple of pairs of mitts and a few toques in the classroom just in case. Most of the time students take them home and wash them, but we've gifted a few to the kids that need them.
Decorations
If you have a classroom where you decorate for Christmas, this is a great time to pick up a few low-cost decorations. Small, artificial trees are much cheaper after the holidays and take up less space in the classroom (and in storage).
Lights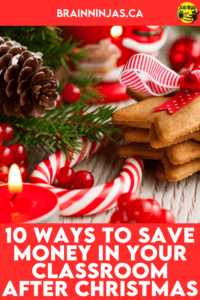 Little white lights can be used in the classroom any time of year. They add a great ambience to the classroom and can be used in lots of ways. Hang them across the room, place them in a large jar or decorate a special place in the classroom.
We managed to find 25 light sets for $1.00 that sold for $12 before Christmas. Just make sure they don't get hot when they light up. Stick to LED if possible to keep your local fire marshall happy.
Food Treats
Sometimes brands will make Christmas-themed versions of their foods. Even better, most of these go on sale after the Christmas holidays. That means you can get the same food (which might have a little red or green on it) for much less than normal. This means you can use these treats as rewards or activities in class.
One way we use candy is in math. You can learn more about that in this post How to Add Candy to Your Math Lessons.
Colouring Books
There are always lots of different colouring books and puzzle books that go on sale after the holidays. These are great for filling time during indoor recesses or during downtime.
We always keep a few books available for students to use. We let them take the pages out to keep.
Colouring books can come in handy when you have younger visitors during parent meetings, too.
Planning Saves Money After Christmas
Write up a list of the items you used this year and take it with you everywhere you go in the days after the holidays. We use the notes app on our phones. This way you'll get what you need at a discount!
Remember, you don't have to buy any of these items for your classroom. You can find deals for your home and family, too (or instead).
Too Much Stuff?
It might be time to go through all that stuff, get it organized or maybe even get rid of it. You might be interested in our clearing out the clutter challenge. It can be found in our Resource Library or we can send a copy directly to your inbox when you join our email list.

What do you buy after the holidays? Let us know in the comments below.