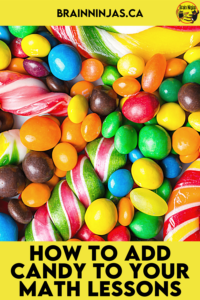 Adding candy to any lesson will always engage students, but why not get some math out of it in the process? We have found our students are very motivated by food. For many of them, it is a treat they don't get often. Just add candy to sweeten up your math lesson.
There are lots of different ways to incorporate candy into your math lessons so we've gathered up a list of ideas. Once you get started, you'll see the possibilities for yourself.
Add It Sparingly
It's fun to use candy once and a while as math manipulatives, but the trick is to use it sparingly. In our school, we have a very small budget that doesn't stretch far. We like to use treats that can be bought in bulk since they tend to be less expensive. Our school has a healthy food policy, so using candy is a big treat. We only do it about three times a school year.
Whenever we talk about candy in this post, it could be replaced by any object. All of these activities can be done without candy. We've used buttons, bingo markers, cereal, game pieces and even Lego bricks. As long as the pieces have a variety of shapes, sizes, or colours, they will work.
While candy boosts engagement, it's not the only way to help your students take an interest in math. Hands-on and concrete practice is a great way to help students solidify their understanding and number sense. Manipulatives let students explore numbers and for some students, it is the link to helping them succeed in math.
Typically we have candy for different purposes. Students have learned not to eat "demonstration candy" that gets thrown out because everyone touches it. We have "practice candy" that is safe to eat after the lesson.
We sort out the candy (or whatever you're using) into small groups of about 25 pieces. Little bags, plastic wrap or cups are perfect to hand out the candy so that students aren't touching each others' food. For a more eco-friendly option, wrap them in a paper napkin or use reusable small dishes.
The Halloween season is a great time of year to stock up on a little candy. Sometimes it's even cheaper the day after.
Add Candy to Number Sense Lessons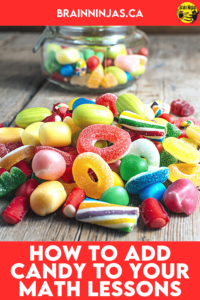 Place Value
A simple place value chart and some candy can be used to represent numbers. For example, if a student places two candies in the tens column, it could represent 20. This can work with numbers as high as you like. We've used this activity up to the millions place.
Estimating
Students love to guess how many candies are in a jar, but there are ways to take estimating beyond that. If you have small containers, have students estimate how many candies fit in the container. Then they can test it out. It's also a great way to talk about estimation strategies.
Does the shape change how many objects can fit? Do different containers that look alike hold the same amount?
Add Candy to Number Operations Lessons
Adding and Subtraction
With small numbers under 20, students can show how to add or subtract. This is great for simple addition and subtraction facts.
Candy can be used to practice regrouping larger numbers. Use a place value chart to represent the two subtrahends or addends. Complete the equation and represent the difference or sum in the place value chart with candy.
Multiplication and Division
Using candy to show groups of or arrays is a great way to represent numbers during multiplication. We've also used candy to practice skip counting.
For small division quotients, students can divide their amounts into small groups. This is a great way to introduce remainders. For example, ask students to count out ten candies. Put the rest to the side. Then ask students to divide the candies into three equal groups. Nine of the candies will end up in three groups and one will be leftover. Explain that the one leftover is called a remainder. Show students how this is represented in numbers.
Add Candy to Decimals and Fractions Activities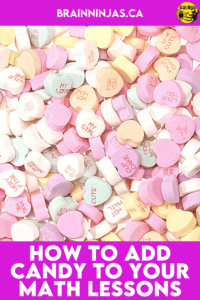 Students can represent fractions as parts of sets using two different coloured candies. When there are ten candies with two different colours, they can represent decimals. For example, if there are six yellow candies and four red ones. The fraction of yellow candies is 6/10. The decimal would be 0.6
Ask your students questions like What fraction of the candy is red? What fraction of the candy is round?
Another way to use the candy is to look at parts of sets. If they have fifteen candies, how many is one-third?
We designed this quick activity to get students to review what they have been learning about fractions and decimals. Students will represent fractions and decimals using their candies. You can download a free copy of the activity from our store.
While we designed this activity to be done with candy hearts, it can be done with anything where there are at least two different colours.
Add Candy to Graphing and Statistics Lessons
Sorting
Items or candies can be sorted by any attribute. Even the names of candy treats can be used in Venn or Carroll diagrams. Students can compare the types of candies by colour, size, shape or even more interesting attributes. Our students once sorted by flavours. Another group sorted their candy by type: chocolate, gum, gummies, and crunchy.
Graphs
Candy provides lots of opportunities for making graphs. Students can survey each other for the types of candy they like. Different colours, shapes or types of candy can be turned into bar graphs. Double bar graphs can add a level of complexity.
Probability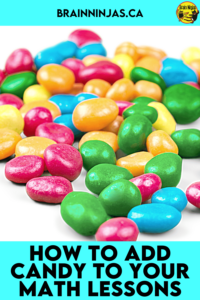 Here's a simple probability activity you can do. You will need a selection of candies of different colours and a small opaque bag or box. The candies will be touched frequently, so they won't be eaten. You might want to get a few treats that students will get to eat after the activity.
For this activity, share the terms possible, impossible, certain, more likely, and less likely. Write them on the board or somewhere your students will be able to refer to them.
Place four candies of the same colour in the bag or box. Ask students: "When I pull out a candy, what colour will it be?" The answer is certain. There is no other possibility.
Change out one of the candies for a different colour. Talk about how three candies of one colour and one of another means it is no longer certain that you'll pick one colour.
Repeat this process with different colours or amounts of different colours. Explain the different probability terms as you go.
Follow up the candy activity with this free set of probability stations from our store.
Add Candy to Measurement Lessons
2D Shapes and 3D Objects
The shapes of surfaces on candy or the containers they come in are a great way to show students how shapes and objects are found in the real world. Students can count faces, edges, or vertices. They can compare different types of candy according to different attributes.
If you are looking for some more activities for shapes and objects, check out this free deck of task cards in our Resource Library. We can send them directly to your inbox when you join our email list.
Area and Perimeter
The perimeter of the candies, wrappers or containers can be measured. Students can trace the edges to learn about how perimeter and area are different but connected.
Students can measure the area of candies or the containers they come in. Since our students don't quite know how to calculate the surface area, we focus on measuring the area of 2D shapes found on the boxes of candy. Then we ask students to add up the area of all the sides and explain that its surface area. They feel so smart learning they are doing math beyond their grade level.
Measurement Referents and Measuring With Candy
Since candies are quite small, they made good referents for centimetre and millimetre referents. Students are able to remember the size of candies or their containers. Measure out referents for grams. Students will be able to remember how big of a handful is 100g or that one candy is about 1g.
It is easy to measure the length or weight of candies. Depending on the shape, your students might also be able to measure the volume. This also applies to the containers or wrappers.
You can measure using the candies. How many candies tall is the book or how many candies long is the pencil?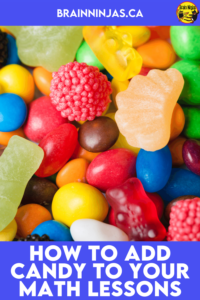 Add Candy to Your Patterns Activities
You can use candy to show variables in expressions.
There are lots of ways to use candy to make patterns. This is especially true if the candy has different shapes, colours or sizes. A simple way is to create a core and ask students to repeat the pattern.
Encourage your students to make growing patterns. Candies arranged in simple layouts that can grow are lots of fun, particularly if students work together to build the patterns.
Do You Teach Math in Canada?
We've written other math posts that you might find helpful. All of our resources are created using SI Notation so there are no commas placed between the place values of whole numbers. We also use metric measurements and align our resources first to Alberta and then to the other Canadian provinces and territories. When possible we include Canadian or Indigenous perspectives, locations and names.
What do you think? Do you add candy to your math lessons? Tell us about it.