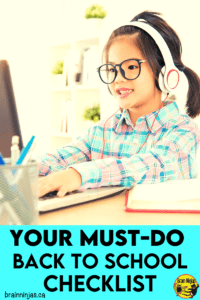 This year is not going to look like any other year, but hopefully, it will look more normal. We created a back to school checklist to think about what might happen this year.
It's not possible to predict exactly what will happen, because we've never been in this situation before. You might be teaching in person, online or some sort of combination of these things. None of this is normal.
You might be teaching a new subject or a new grade level. You might not know anything about what you'll be doing.
None of it is within your control. So, let's talk about the things you can control and get ready before you have to go back to school no matter what that looks like.
[Read more…]

about Your Must-Do Back to School Survival Checklist