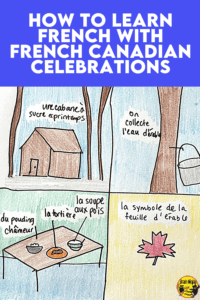 Every year, Francophone communities across Canada celebrate their traditions and culture. People from around the world celebrate these events, too. There's no better way to teach French as a Second Language than to connect to French Canadian celebrations and cultural events.
A large part of teaching French as a Second Language (FSL) is connecting students to the culture. Maybe even the most important part! This is an opportunity to learn about the culture of just over 20% of Canadians. That's one in five Canadians who identify as French Canadian!
Top 5 Francophone Celebrations in Canada
There are many French Canadian celebrations, but we've identified the five most popular.
Carnaval de Québec
Known around the world as a great winter festival, the Carnaval de Québec draws people in late January early February to Québec City. Outdoor winter events, competitions, concerts and more brings people out in the cold winter. Don't forget the Bonhomme Carnaval! This mascot is recognized across the country, even to those who have never been to Carnaval. You can learn even more here.
Festival du Voyageur
The Voyageur were men working for fur trading companies in 17th century Canada. Most were French, trading with Indigenous People. They played an important role in the fur trade. Every year in February this figure is celebrated in Manitoba on the lands of the Anishinaabe, Ininew and Dakota peoples and on the homeland of the Métis Nation. Many competitions like jigging and cooking are held at the Festival du Voyageur. Outdoor events and sports are enjoyed by people from far and wide. If you're interested in learning more, try this.
Cabane à sucre
Nothing is better than sweet maple syrup. But it has to be the real thing…not sirop de poteau (syrup from a post). Yes, we are maple syrup snobs! This 'liquid gold' is most likely coming from a sugar shack in Québec. Early spring is awaited by every sweet tooth. From the eating of the sticky taffy (tire) to the traditional meal, families gather to celebrate the beginning of spring and sugaring season (le temps des sucres). We have more information about this celebration in this product.
Fête nationale du Québec (Saint-Jean-Baptiste)
Every June 24th, people across the province of Québec celebrate the Fête nationale du Québec. This celebration was once known as the Saint-Jean-Baptiste and is still called by many la Saint-Jean. This day celebrates Québec traditions and culture. Concerts, parties, parades, family gatherings and fireworks are staples of this celebration. It is also the start of summer holidays across the province. Learn more about it here.
Fête nationale de l'Acadie
L'Acadie is the region of New Brunswick, Prince Edward Island and Nova Scotia where French settlers arrived starting in 1604. Acadians are descendants of the French. The British eventually took control of the region. Between 1755-1763, about 10,000 Acadians were removed because they refused to pledge to be loyal to the British crown. This forced deportation is also known as the Acadian expulsion or the Great Upheaval. Today, every August 15th, Acadians across the region celebrate Acadian culture. They commemorate this dark part of history. Many events are planned and people travel across the region to gather with family. More information can be found here.
Who Do We Think We are? – Celebrations and Identity
What celebrations do you celebrate? What celebrations do you feel are a part of your identity and who you are? How are these celebrations a part of your community? French Canada celebrations are an important part of French Canadian identity. Help students understand the role these celebrations play in Francophone identity.
Easiest Ways to Start Learning a Second Language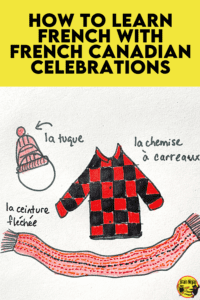 Reading is probably the easiest way to learn and practice another language. With good strategies, the second language can be figured out and understood. It's easier than listening, speaking and writing. Seeing the words in context gives learners the opportunity to make stronger connections.
If you can read in one language you can read in another (kind of). Of course, this only works for languages that use the same alphabet system. Reading in Arabic when you speak English won't help, but reading in French is easy(ish).
Tap Into French Text Types
Students can gather information from a variety of types of texts. Reading all kinds of texts builds literacy skills. It's also more interesting!
Using a variety of texts, students gather information about the celebrations. It's way more fun to read about the French Canada celebrations through letters, stories, non-fiction, diary entries, text messages and posters.
French and English Cognates – Word Friends (and Near Friends)
One effective strategy for learning a second language is to use cognates. Cognates are words that are identical in two languages. They are written the same way, mean the same thing but may sound different (and often even sound the same). Near cognates are words that are very close in the two languages. They are also very helpful.
Using this strategy, students figure out quite a bit in the second language. It is especially effective when reading because students can see the words.
Using word wall words for cognates prepares students for reading. Share the words, play games, study the similarities and differences.
Texts written using a majority of French/English cognates makes texts easier to read. Students use cognates to make sense of texts in a second language. They will be surprised by how much they can understand!
Sharing language and culture through texts that are at the right age level helps students connect with the language.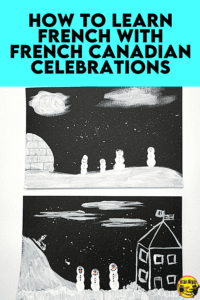 Use Context
Context is one of the best language teachers. After all, you learned your first language through context! When reading, have students use context as much as possible. It is easier when the majority of the text is written using cognates. Even unknown words can sometimes be figured out based on context. Students can gather important information from context.
Sentence Building Like A Pro
Reading texts gives students lots of information. Sentence stems help students build sentences about the topic such as symbols, activities and traditions for each celebration. They practice writing simple, repetitive sentences. Practice makes perfect. Right?!
Take it a step further and practice oral skills by using the sentence stems about the French Canada celebrations. This allows students to copy simple sentences.
Reading out loud is the best way to get beginning students to speak in the second language. Many students shy away from speaking without model sentences. Some will even tremble like a leaf! Use the sentence stems to increase Risk-taking and success.
Want to take it a step further? Have students practice word skills.
8 Basic Word Skills
As anyone who teaches French as a Second Language knows, it can be challenging. French has a lot of rules and a lot of exceptions to the rules. Where do you draw the line? How much do you teach your students? What do they really need to know at this level?
One way is to teach students a general understanding of the complexities of the language and not mastery of the word skill. Let's be honest, teaching French for 150 minutes a week is not going to make your students masters of the French language.
Here is a sample of word skills and our Francophone Celebrations in Canada products where they can be found.
Need a student cheat sheet with definitions of each part of speech? Get a free resource from our Resource Library. We can send a copy directly to your inbox when you sign up for our email list.
Teaching Universal Literacy Skills
Teach general literacy skills that can be applied to any language when making meaning. This reinforces literacy skills in general.
Same, Same, Different, Different – Comparing and Contrasting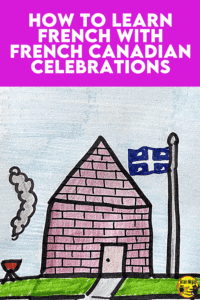 Comparing looks at the similarities between two or more concepts, ideas or categories. Contrasting looks at the differences. When students are asked to compare and contrast, they are looking at similarities and differences. Practice this skill in the La Fête nationale du Québec resource.
Stretch My Thinking – Inferring
An inference is made when the text gives some of the information and the rest is filled in with the reader's background knowledge. It can also be figured out using the information given. Practice this skill in the Le Festival du Voyageur resource.
Pare it Down – Summarizing
Summarizing is the skill of taking a lot of information and reducing it down to the main points. The first step is having students decide if a summary is good. Students need to learn to figure out which information is important in a summary. Practice this skill in the La cabane à sucre resource.
Important/Not Important – Analyzing
Sometimes we have to separate the text that is important from the text that is interesting. Important information is relevant and specific to the topic. Interesting information is connected, but it does not need to be included to get to the main idea. Practice this skill in the La Fête nationale de l'Acadie resource.
This Reminds Me Of – Connecting
Connecting means thinking about a way the text reminds you of something you've experienced, read, watched or learned about the world. Many students are great at making connections (those are the ones that like to tell you stories about everything as soon as you start teaching). Others don't seem to see the relationship. Learning to connect to what we read is important helping us understand what we've read more deeply. Practice this skill in the Le Carnaval de Québec resource.
Here is a sample of literacy skills and our Francophone Celebrations in Canada products where they can be found.
Need a student cheat sheet with definitions of each literacy skill? Get a free resource from our Resource Library. We can send a copy directly to your inbox when you sign up for our email list.
Simple Writing Activity
Most FSL students can't write themselves out of a paper bag. Getting students to write using sentences from the texts is helpful. After all, imitation is the best form of flattery!
Students can write a simple paragraph using some of the information found in texts. They don't need to write a novel or even write everything correctly. After all, they probably can't at this level. It's also important for students to feel like they can take risks in writing. Risk-taking is KEY to learning a second language.
A short, written text gives students the chance to briefly explain the connection between the French Canada celebration and identity.
The celebration activities are more about gathering the information anyways!
Connect to the HeART – Art Activities in the Second Language Class
Broaden student understanding of these celebrations by completing an art project. Art, when combined with learning a language, can open doors to greater connections. Challenge students to explore the cultural significance of the French Canada celebrations in a different way. It connects a creative task to language learning. Many students also connect best to learning visually.
Painless, Low Risk Assessment
Using visual representations to capture the student's learning about the celebration keeps the assessment simple. After all, the idea is to get students familiar with the celebration and how it contributes to identity.
Connected Closure
Reuse sentences from sentence building activities and the Word Sets. Students add the word intéressant/intéressante to each sentence. They share what they think is the most interesting thing about the celebration. This connects their learning. It develops their vocabulary. It increases their understanding of the cultural significance of the French Canadian celebration.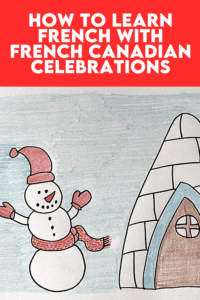 Extend Learning
Want students to extend their learning about the celebration? Have students complete simple research on the celebration. Questions about the French Canadian celebrations allow students to stretch their understanding.
Let's Celebrate!
The Francophone Celebrations in Canada resources introduce students to French Canadian celebrations. They are meant to be used in grade five through eight French as a Second Language or Core French classes. They are not meant for lower elementary French Immersion classes. 
Students use different texts to gather information about a Francophone celebration. After reading the texts, students complete activities to practice word skills or literacy skills. You can pick and choose what works for your class. We love giving you choices!
What connections can you make to celebrations that are a part of your identity? Celebrate these French Canada celebrations with the FSL Francophone Celebrations in Canada Bundle.
Looking for more blog posts about teaching French as a Second Language?
How to Teach French as a Second Language
How to Assess French as a Second Language
Let us know what you think below. If you still have questions, ask us those too.