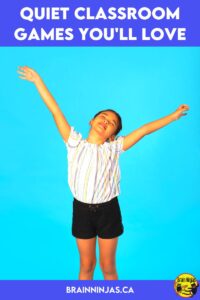 Every once and a while, you need a few minutes to regroup, handle a student issue, clean up a disaster, or smooth out a transition. There will be moments in your teaching day where the lessons don't line up or you're waiting on someone else.
Everyone knows silent ball. It's a quiet game where students toss an object around the room to each other but cannot make any noise while doing it. Our students have loved silent ball over the years, but we like to mix things up with a variety of activities that will keep students engaged.
We've collected some of our favourite calm and quiet activities that you can use almost anywhere and almost anytime. Keep this list of quiet classroom games handy (and maybe even learn a few to take with you on that next field trip).
Quiet Classroom Games That Can Be Played Anywhere
Grammy's Underpants
This is a silly game that loses its novelty after a while, so it's a great one to keep for the end of a hard day. Most of our students have played it in a silly way, but if you have students that may take it too far or ask inappropriate questions, then this might not be the game for your class.
Materials: just a space to stand in a circle
Play: One person stands in the middle of the circle. They can only answer questions with "my grammy's underpants." The rest of the students may ask questions to the person in the middle with the intent of making the person in the middle of the circle crack up and laugh when trying to answer with "my grammy's underpants." If they are successful, they go in the middle and become the person trying to answer.
Buzz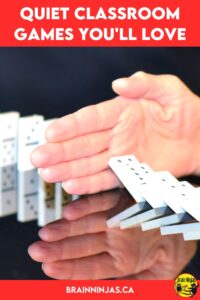 Materials: just a space to stand in a circle
Play: Students stand in a circle. They count in order to ten and the numbers start over again. Students continue counting around and around, but each round, one of the numbers is substituted with the word buzz.
For example, if the word three is being substituted, then students would count one, two, buzz, four, five etc. Each round adds another word being buzzed. The goal is to make it all the way around the circle without any mistakes.
Alternative Version: If the first round is going clockwise, make the second round go counterclockwise. You can even have both going at the same time. Students will get mixed up pretty quickly and it's fun to watch.
Add more numbers (like counting to twelve)
Arms Out
Materials: just space to play.
Play: There are four positions: arms out (students stand with their arms spread out), shoulders (students touch their shoulders), knees (students bend to touch their knees) and toes (students bend down to touch their toes). The positions are played where they cannot jump from toes to shoulders or arms out to knees, but they can move back and forth in this order: arms out, shoulders, knees, toes
The teacher will call out a position (we always start with arms out) and students take the position. They need to freeze in that position. Then the teacher will call out another position. If a student moves to the wrong position, flinches or talks, they are "out."
We also have a rule that only the teacher can call someone "out" as too many referees make too much noise.
A fun way to catch students is to call out the same position twice in a row.
Alternative Version: The last person to get into the position is "out."
Quiet Classroom Games That Need A Surface (Like a Desk)
7-Up
A game all of us GenXers learned in school.
Materials: space for students to sit with their heads down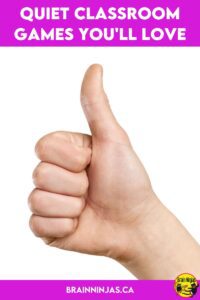 Play: Seven students are chosen and stand at the front of the room. Everyone else sits with their heads down on the desks and their hands outstretched with their thumb sticking up. We have our seven players say, "Heads down, thumbs up."
The seven students will each select one sitting player by touching their thumb. The touched players will tuck their thumbs down. When the seven players return to the front of the room they say, "Heads up, seven up."
If a player's thumb was touched, they will stand. One by one they will be called on to guess who picked them. If they are correct, they will replace the student at the front, but if they are wrong, they will sit back down.
Play again.
Alternative Version: The setup is the same, but instead of all seven of the players at the front choosing their own student, one student chooses all seven of the students with their thumbs up. Then the players guess who chose all of them.
Silent Ball
You can play this game for any length of time, but we have found it's perfect when you have 5-10 minutes available.
Materials: a ball that can be tossed gently without too much bounce (a beach ball, Nerf ball or tennis ball work well), room for students to sit, and a designated place to be "out" (our students just move to the floor). If you are having students sit on chairs or desks, remind them to be safe and sit securely.
Play: Students spread out and sit in view of each other. They must stay quiet throughout the game. Students can throw the ball to any other student, who must catch it. If the student drops the ball when it is thrown to them, or talks at any time, they are "out" but most remain silent. If a student throws a ball that isn't "catchable," they are "out."
Alternative Version: Divide the class into two teams. Students must toss the ball to a student on the other team. The team with the most players left at the end of the game wins.
Paper Ball
Materials: recycled or scrap paper that can be turned into a paper ball, fingers or markers or pencils (which can be used as hockey sticks or bats), marker lids or caps make good bowling pins
Play: Students choose any basic sport like hockey, bowling, basketball, or baseball and then play it with a paper ball. Two students play against each other on one surface (like a desk, table or floor).
Drawing in Circles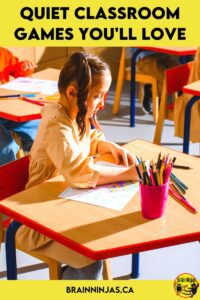 This is a fun one that takes between 30-45 minutes depending on the size of your class and the length of time you give them to draw each round.
We have never needed to ask students not to intentionally destroy someone else's drawing (or story), but if you have students that may struggle with good decisions, have the conversation before starting the activity.
Materials: Each student needs a desk (or writing surface), a piece of blank paper, a pencil, and colouring gear
Play: Have students sit in a circle with their paper and writing materials. Each person writes their name on the back of the piece of paper. Set a timer and give students one minute to draw a picture. They can draw pretty much anything they want.
When the time runs out, students pass their paper to the student on the right. The timer starts again and each student now draws on the piece of paper in front of them.
Each time the timer runs out, the players pass the papers and start drawing again. This continues until the papers make their way all around the circle and back to the original artist.
Share the results.
Alternative Version: Instead of drawing, hand out lined paper and each student writes a sentence, making an unusual story.
Memory Games
This is a quick one that can be made easier or more challenging based on how you set it up.
Materials: a pile of interesting items from your classroom, a document camera, a binder or something that can block the view of the items from the class when the camera is off
Play: Place a few different items under a document camera. Give students a specified length of time to study the items. We use 30 seconds for our grade 4/5 students. Turn off the camera and ask students to list all the items.
Alternative Version: Rearrange the items before removing one. Add items that weren't there before. Take away a different number of items.
Change the number of items by adding an extra one each round. For example, if you start with eight items, start with nine for the next round.
Put lots of different items under the document camera and let students study the items. Turn off the camera and let students make a list. The person with the longest list of items that are under the camera wins.
Quiet Classroom Games That Need Specific Materials
Building Card Houses or Domino Chain Reactions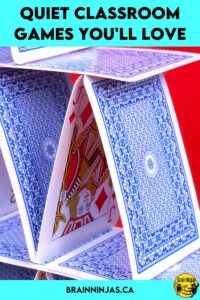 This really depends on your school floor. Our school floors all shake when one person walks down the hall, but if you have solid floors this can be a fun activity that is fun to destroy when completed.
Materials: decks of cards or dominos
Card Houses Play: Have students work in small groups to see if they can build a card house. Remind students not to tape, glue or bend the cards. See how tall they can build the house.
Domino Chain Reactions: Have students work together to build a row of dominos that can be toppled later. We have shown students to use an object to block the path if they are worried about one part knocking over another part while they are in the process of building. See how long the chain can get before time is up or they run out of dominos.
Alternative Version: Make it more challenging by building on desks, with one hand, or time it as a race.
We have a set of makerspace exploration cards full of similar challenges. Find them in our TpT Store.
Bingo Chip Shuffleboard
Materials: whiteboard marker, tabletop surface, bingo chips (poker ships work well too)
Play: Use the whiteboard marker to draw a bullseye at one end of the table. Players set the chip on the edge of the desk and then flick it with their fingers or use the flat part of their palm to make the chip slide down the surface to the bullseye. The player with the chip closest to the centre of the bullseye wins.
Alternative Version: Draw a second bullseye so that players play from one side of the table to the other similar to a curling rink.
Puzzle Makers
This is a great activity for a few students who are creative and need a little independent quiet time.
Materials: paper, scissors, envelopes or bags for the pieces
Play: A student draws a picture on a piece of paper. This can be done with pencil or it can be coloured, but the majority of the paper should be coloured. They cut up the picture into pieces similar to how a puzzle is cut apart. Then they put the pieces into a bag or envelope. Another student puts together the puzzle.
Students can make and trade the puzzles to play with each other.
Alternative Version: Draw on BOTH sides of the paper before cutting it apart for a real challenge.
Do your students like logic puzzles? We have lots to choose from, but this free puzzle is available in our Resource Library for members of our email list. Not on the list? We'll send a copy directly to your inbox when you sign up.
Looking for more quiet classroom games?
Not all of these games are quiet, but they might come in handy in a pinch.
Chill Out With These Sanity Saving Indoor Recess Activities
Energize Your Gym Class With Very Little Equipment
Ways to teach Drama in the Classroom
Why You Should Revive Old Playground Games
What are some of your favourite quiet classroom games? Let us know in the comments below.