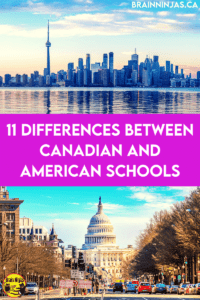 While it might seem like schools around the world are similar, education is viewed very differently. Canada and the US are commonly lumped together as being the same, but there are many fundamental differences in schools in each country. Let's take a look at some of the differences between Canadian and American schools.
What are the years called in Canadian and American Schools?
United States
It's common to hear students called fifth graders or say that students are in fifth grade. Teachers will say they teach fifth grade. Middle school can range anywhere from fourth to ninth grades. In high school, words like freshman, sophomore, juniors and seniors are used to describe each year.
Canada
Almost universally across Canada, all years of school are named by their grade level. So, students who are in Grade Four are called Grade Fours. Teachers teach Grade Four. This continues all the way up. Occasionally, students in Grade Twelve are called seniors.
Where do elementary students eat lunch?
United States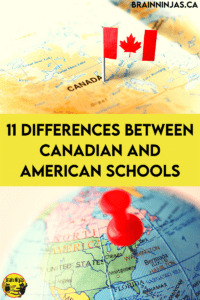 Most schools have cafeterias. Some schools allow students to bring lunches or buy their lunch in the cafeteria. There are programs to help support students who cannot afford lunches. These lunches have a worldwide reputation for being unhealthy, but since we've only seen this on television, we can't comment directly.
Canada
Most elementary schools do not have cafeterias. Students will usually bring their own lunch from home or they will go home over the lunch break to eat. In almost every school I've gone to school in or have taught in, lunches are eaten in the classroom. Sometimes they are supervised by their classroom teacher and sometimes school districts pay for lunchroom supervisors.
In junior high and high schools, there can be cafeterias. As a student, this wasn't the case. Our "cafeteria" was a big room with lots of tables so you could sit and eat the lunch you brought from home. We were allowed to walk to the nearby restaurants or go home for lunch, but no food was prepared at school for students to purchase.
Local high schools serve food for lunch and the options are fairly healthy including salads and sandwiches made on site. Many school districts across the country have healthy food guidelines to make sure all students have access to good food.
Do Canadian and American schools have nurses?
United States
According to the National Association of School Nurses, there are approximately 61,232–73,697 Registered Nurses (RNs) working in elementary and secondary schools (K-12) in the United States.
Canada
Most schools do not have a nurse that works at the school. Public health nurses work out of the local health department and are assigned a zone with many schools. They are available to come to schools for presentations, but they do not treat students. Public health nurses are responsible for the vaccinations of students during their elementary years. During vaccinations, a group of nurses comes to the school to administer vaccinations to students.
What year does formal reading begin in Canadian and American schools?
United States
Generally, students start to learn to read in pre-kindergarten or kindergarten. By first grade, they are taught to read.
Canada
Generally, there is no pre-kindergarten. Parents will take their children to preschools, but the focus is on play, sharing and doing activities that help build gross motor and fine motor skills. Kindergarten is not mandatory in some provinces, like Alberta. Generally, kindergarten teachers focus on play and add in literacy and numeracy concepts where possible. Formal reading instruction doesn't have to happen in kindergarten, so teachers will assess reading readiness and then plan their lessons according. Basically, kindergarten is designed to teach students how to go to school.
Formal reading instruction begins in Grade One, though many students already have some skills. Teachers across Canada agree that more education on how to teach students to read should be included in all educational undergrad programs. There is a big push across the country to focus on developmentally appropriate reading activities.
How is the word curriculum used?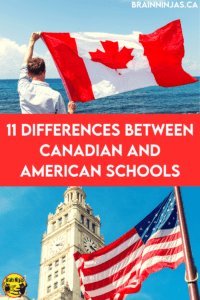 This is the word that inspired the post.
United States
Teachers generally refer to curriculum as the materials or program they are using to teach. Sometimes schools require teachers to use specific programs or materials and sometimes teachers can make that decision.
Canada
In most provinces and territories, the curriculum is the set of standards teachers are required to teach. This would be a list of skills, knowledge or attitudes students would be required to achieve at each grade level. The name of the curricula varies depending on where you live in Canada, but it can be called the Core Competencies, Program of Studies or Curricular Standards. In most education programs, you study the curriculum so that you know the document forward and backwards by the time you step into a classroom.
Who decides which standards are taught in Canadian and American schools?
United States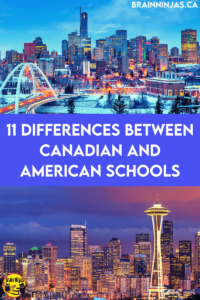 This depends on the state, school board and school. It can be all over the map. While there is a Common Core (a list of standards for each grade level), not all states have adopted it and some states have created their own versions.
Canada
Each province and territory makes a list of required standards. Every teacher must teach those standards, but the teacher decides how lessons are taught, which materials are used and when the standards are taught throughout the year.
While some of the provinces have regional standards, like learning about the province or territory's history, many of the standards are the same across Canada. Standards might show up in different grade levels, but generally, all students in Canada are taught the same standards up to graduation. When students switch from province to province, they are able to adjust easily.
Are most students at private or public schools?
United States
There are 34,576 private schools in the United States with 5.7 million PK-12 students. Private schools account for 25 percent of the nation's schools and enroll 10 percent of all PK-12 students according to the Council for American Private Education.
Canada
The majority of students in Canada attend public school. The vast majority of students (92.1%) attended public schools according to Statistics Canada. Almost 99.5% of students start their education in public schools, the most of any G7 nation. Some students in private schools start during their high school years.
Most students attend the school where they live. School shopping is discouraged and community schools are encouraged. Public schools are funded based solely on their enrolment-not test scores or economic factors. Provinces have equalization programs to make sure all schools have equal access to resources. This is designed to prevent inequality or "have nots."
Public schools are funded by tax dollars. Private schools can refuse students based on any decision, so many Canadians feel that since access to education is a right, tax dollars should not be used to fund private schools.
Who makes more: public or private school teachers?
United States
According to the National Center for Education Statistics, private school teachers earn an average of $10,000 – $15,000 less than comparable public school positions. Teacher salaries in private schools are drawn from student tuition. Because these schools charge different admissions prices, their teacher salaries can represent a wide range. Some private schools may pay much more than public schools, but most pay less.
Some school boards or states pay teachers based on the performance of their students. This can be an incentive or it can encourage teachers to teach to the standardized tests.
Per the BLS, elementary school teachers had a median annual income of $58,230 USD. That comes out to about $72,484.12 in CAD.
Canada
Private-school teachers earn 20-30% less than public-school teachers according to the Alberta Teachers' Association. Public school teachers are paid well in comparison to most teachers in the United States. This pay is a predetermined scale based on years of education and years of experience. Pay is determined by each province or territory. Certain areas are paid more or less based on the cost of living in the area. The average annual income of elementary teachers is $93 700 CAD. That translates to $75 270 USD.
Public school teachers tend to have more access to job protections like unions and professional organizations. They receive health and training benefits.
Who teaches subjects like art, technology, STEM, library or physical education in elementary schools?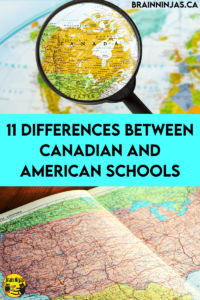 United States
Generally, schools will have specific teachers who teach these subjects. While their students attend these classes, teachers have planning time. This varies greatly depending on the school or school boards.
Canada
Generally, elementary teachers teach all the subjects. Sometimes these teachers also teach second languages (which is a requirement almost everywhere from Grade Four on) or music. Technology and STEM are integrated directly into classroom subject areas. Some schools have specialized teachers for music or French.
Prep or planning time varies, but generally, Canadian teachers get about an hour to two hours of planning time each week. Teachers who work part-time do no get prep or planning time in most provinces. Usually, when a teacher is on prep-time, they are the only teacher in the school with this break, so collaboration together isn't usually possible.
Some schools have librarians, but typically teachers attend these sessions with their students. Most schools are hiring librarian technicians who take care of the books and systems, but are not trained to work with students. This is due to funding cutbacks and library technicians cost about half of teacher salaries.
When does the school year begin and end in Canadian and American schools?
United States
This depends on which part of the country. Each state and each school board can make up their own calendar. Many build in possible snow days and "make-up" days, meaning teachers don't always know exactly when their holidays will start. As a general rule Northern states go from September to June while Southern states for from August to May.
Canada
Generally, all schools in Canada attend school from September through June. There are some schools that go year-round, but these are specialized schools and there are very few of them. Most schools attend five days a week. Snow days are not a common thing here despite the weather. But, when it very cold (-30C) school buses do not run, so many students miss school. During large storms where ice, snow or power can be a problem, the buildings are usually expected to be open in case any students arrive.
Is spelling and math the same in both countries?
United States
According to many Americans, we spell things wrong and they know we use the metric system.
Canada
Commonwealth countries use the same English as Canada. The US spells words differently, but they often are the publishers of many of the resources we use in Canadian schools. Canadians are used to switching back and forth between the spellings, but generally we're expected to teach British English spellings.
In math, we use the metric system and SI Notation. This means our numbers look like this 30 000 with no comma in between place values. Canadians have a lot of different ways we measure things because the metric system wasn't adopted until the early eighties. My generation grew up in a house where both systems were used frequently. As my generation gets older, we're noticing more and more systems changing to metric.
There was actually a funny graphic made based on the Canadian television show Corner Gas.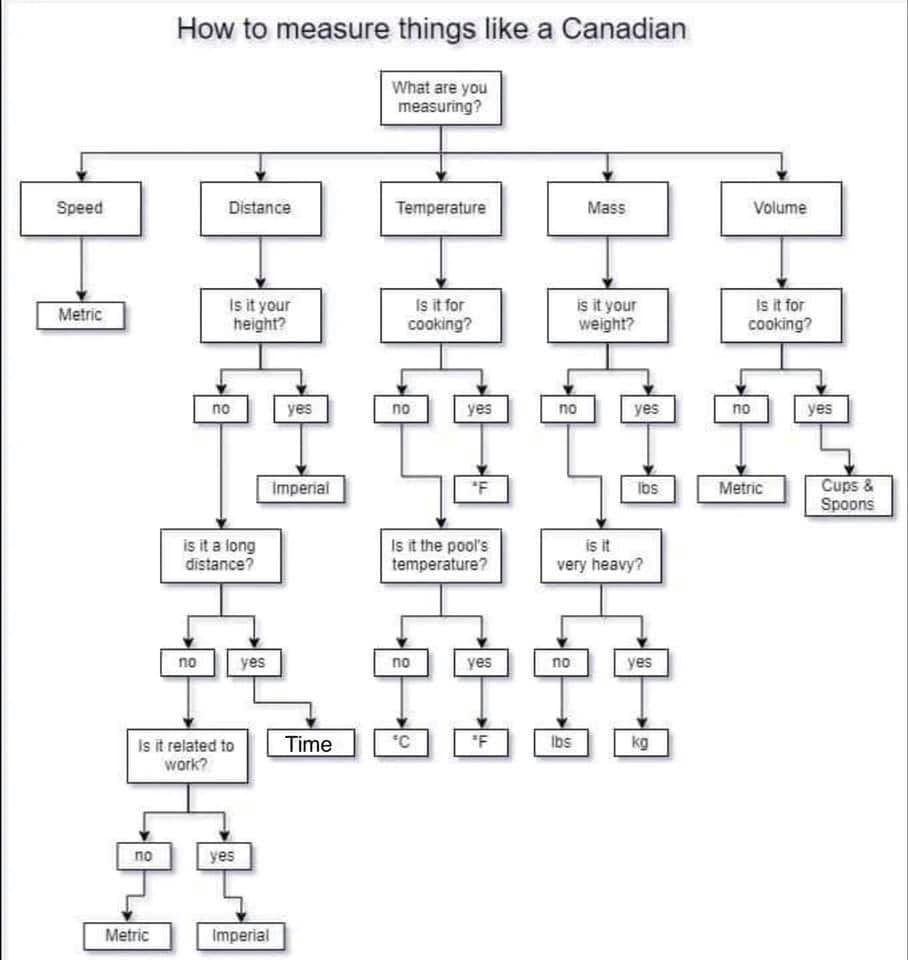 Despite the Differences, the Goals are the Same
Despite the differences in what and how we teach, every teacher has the same goal. Every teacher wants to inspire, teach and help students grow into the next amazing group of humans in the world.
You might enjoy some of our other stories about teaching:
Keep track of some of your classroom stories with our Teacher Gratitude Journal. You can grab a copy in our Resource Library or we can send you a copy when you sign up for our email list.
Have you noticed some other differences between Canadian and American schools? Tell us about them.